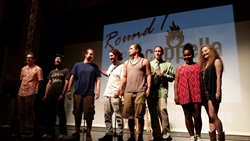 The 2017 A Cappella & Unplugged competition is the third annual competition and originated in 2015 as a way to celebrate the rebirth of Chambersburg, after the 1864 burning. It is a celebration of the spirit of people.
(PRWEB) June 22, 2017
The Franklin County Visitors Bureau (FCVB) is showcasing the six semi-finalists of A Cappella and Unplugged 2017 on Facebook.com/FCVBen and asking the public to like their favorite act.
The six semi-finalists of Round 2 are Dominik Wiesniewski of Waynesboro, Elly Cooke of Gettysburg, Hollow Rhymes of Chambersburg, Jason Sheffield of McConnellsburg, Jesse Landis of Biglerville, and Tiana Webber of Shippensburg. Semi-finalists competed during Round 1 of A Cappella & Unplugged 2017 at the Capitol Theatre. Judges Paula Hepfer and Heather McEndree of Cumberland Valley School of Music, Jon Meyer of the Capitol Theatre, Scott Brown of Shippensburg Chamber of Commerce, and Franklin County Commissioner David Keller ranked fourteen acts collectively on musical ability, stage presence, creativity, and originality.
A Cappella & Unplugged 2017 is the third annual event to spotlight local and regional talent. The event started in 2015, celebrates the spirit of people through music. Auditions are held in late May. Round 1 is the third Saturday of June. Round 2 follows, inviting the public to like their favorite act on the FCVB Facebook page. The event culminates with Finals, held on the steps of the Franklin County courthouse, the third Saturday of July, just before the 1864 light show. The winning act receives $500.
Be part of A Cappella & Unplugged 2017. Visit Facebook.com/FCVBen. Watch the performances of the six semi-finalists. Decide who is best, and like the video. Sharing helps, too. On July 12 at noon, FCVB will identify the three acts with the most likes and invite them to perform in the finals. For the Finals, acts are required to perform two songs.
A Cappella & Unplugged Finals begin at 7 PM on July 15, 2017 on the courthouse steps in downtown Chambersburg. The winner will be announced prior to the beginning of the 1864 Burning & Rebirth light show on the square in downtown Chambersburg.
The 2015 winner of A Cappella & Unplugged was "A World Apart," featuring siblings Taylor Piper and Kristopher Potter of Mercersburg. Last year's winners were Kate & Isaac, a duo from Waynesboro.
The Franklin County Visitors Bureau invites all to explore Franklin County PA and enjoy the history, arts, recreation, natural beauty, fresh foods and warm hospitality of communities like Chambersburg, Greencastle, Mercersburg, Shippensburg, and Waynesboro. Franklin County PA is located just north of the Mason Dixon Line and an easy drive to Washington DC, Philadelphia, and Pittsburgh. Discover more….plan your visit at ExploreFranklinCountyPA.com, by contacting 866.646.8060 or 717.552.2977.