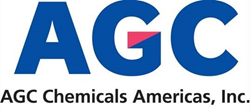 EXTON, Pa (PRWEB) June 21, 2017
AGC Chemicals Americas Inc. is sponsoring an educational and networking event for chlor-alkali producers of all levels of experience. The FLEMION® Membrane and Chlor-Alkali Technology Symposium will be held October 4-6, 2017 at the Ritz-Carlton Orlando, Grande Lakes resort.
The symposium features two days of technology presentations given by membrane specialists and chlor-alkali technology leaders. Presentation topics range from basic membrane operation and function to brine management, voltage monitoring and other ways to improve the facility performance. Networking events include a golf outing, lunches and two evening receptions. Qualified personnel from companies that produce caustic soda/caustic potash in electrolysis plants in North or South America can attend the conference sessions and networking events free of charge by registering on the event website at http://www.chloralkalitech.com.
Presenters include experts from IHS Markit, Olin, Asahi Glass Corporation, DeNora, tkUCE, Inovyn (formerly Ineos), R2 and Prince Rubber. AGC technical specialists will provide information on FLEMION, a fluorinated ion exchange membrane. Presentations by AGC's experts will include information about F-808x series membranes, the operation of FLEMION, brine Impurities, membrane investigations, the effect of nickel on membrane and the introduction of Fx-634.
For more information about the symposium and to register, visit http://www.chloralkalitech.com. Follow AGC Chemicals Americas on Twitter for the latest symposium news and updates: @AGCChem_Amer #CHLORALKALI2017.
About AGC Chemicals Americas Inc.
AGC Chemicals Americas Inc. is a wholly owned subsidiary of Asahi Glass Company Ltd., a $13 billion multinational corporation and one of the world's largest manufacturers of glass, electronic displays and chemical products. The company was formed in 2004 through the merging of sister companies Asahi Glass Fluoropolymers USA and AGA Chemicals. Headquartered in Exton, Pa., AGC Chemicals Americas maintains manufacturing operations in nearby Thorndale, Pa., and warehouses located throughout North America. http://www.agcchem.com