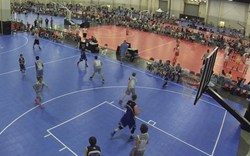 "To have a world-class organization like AAU promoting healthy competitive youth sports right here in our own backyard, is fantastic!" - Jorgen Moller, CEO SnapSports
Salt Lake City, Utah (PRWEB) June 22, 2017
Continuing a long-standing relationship, SnapSports will again partner with AAU's Jam On It Academy, providing over 30 SnapSports championship basketball courts for the annual Big Mountain Jam tournament. Big Mountain Jam, taking place in Sandy Utah at the South Towne Expo Center June 22-24, has enjoyed exponential growth since its beginning. This year, to accommodate the registration of over 700 teams, Jam On It has added a second tournament weekend, The Rocky Mountain Showcase, also taking place at the South Towne Expo Center June 29-July 1st. SnapSports, based in Salt Lake City, Utah, is thrilled to be a key partner to the largest basketball event in Utah.
"To have a world-class organization like AAU promoting healthy competitive youth sports right here in our own backyard, is fantastic! It's rewarding to be chosen as the AAU Big Mountain Jams' exclusive sports flooring over all other competitors world-wide" said Jorgen Moller, CEO of SnapSports.
To outfit arguably their fastest growing tournament, AAU Jam On It Academy chose SnapSports patented BounceBack® basketball surface with ShockTower® technology. BounceBack ShockTower is the only modular athletic surface available with a built in shock absorption system providing 'ease' on the joints during high impact play. With the added level of cush, AAU athletes of all ages will play for longer with less fatigue, an increased safety element crucial to AAU.
"With 30 full court basketball games going on at one time, 450 teams, 1000 coaches, 150 officials, 13,000 spectators and over 5,000 athletes competing,SnapSports is the only court that meets our performance and player safety criteria ." said Matt Williams, Governor AAU Pacific District.
About Big Mountain Jam and AAU:
Big Mountain Jam and the Rocky Mountain tournaments will showcase teams from all over the western US and Canada comprised of boys and girls of all age divisions. Teams will compete on over 30 SnapSports tournament and championship courts. AAU, Amateur Athletic Union, is a multi-sport organization dedicated to the promotion and development of sporting programs and fitness.
About SnapSports:
Based in Salt Lake City, Utah—the team at SnapSports have been, engineering, manufacturing and providing the world's leading outdoor multi-courts, basketball courts and modular sport surfaces for nearly four decades. SnapSports manufactures 24/7, in a 100,000 square foot ISO 9001:2008 quality certified facility and is supported by an authorized global network.