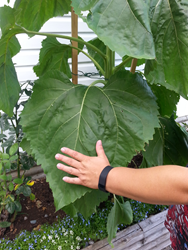 "This OMG Fertilizer is amazing, 24 hours after applying, my plant had blossoms all over."
Signal Hill, California (PRWEB) June 25, 2017
OMG Fertilizer Company is very excited to announce the grand opening of its latest product, OMG FERTILIZER ®. This revolutionary and proprietary compound has been years in research, design and testing. Why is this such a significant discovery for commercial growers worldwide? Simply said, "people gotta eat."

Faster growing, healthier plants results in shortened grow time potentially with multiple yields per year.
Rapid nutrient infusion for fast acting results.
Increased uptake will result in more sugars to fruit, which enhances the taste. This is known as the brix affect. Grape growers can appreciate this fact.
No soil burnout, and OMG FERTILIZER ® can be safely used with other fertilizers.
Limited release of nitrogen without causing surrounding water pollution.
OMG FERTILIZER ® can be used on almost every type of fruit tree, plant, or vegetable.
Produces great results with plants in any growth cycle.
HDL's proprietary OMG Fertilizer ® comes in a super concentrated liquid form for ease and fast acting application. It does NOT contain any GMOs. Its plant nutrient is unlike any other. View the pictures and testimonials to see for yourself the amazing results. What can be expected with only one or two applications:
1. For many potted young plants and vegetables expect darker/greener leaves within one or two weeks. Greener leaves produce more chloroplasts which increase the entire plant's uptake of CO2. This increases nutrimental value of fruits and vegetables.
2. Within two to three weeks, larger and even darker/greener leaves can be expected. New sprouts can be seen at the ends of the smaller stems. Darker/greener stems can be expected as well.
3. Unlike other fertilizers, OMG Fertilizer ® can be combined with any good organic, inorganic, or a combination of other fertilizers for outstanding results.
Some growers may ask if larger, healthier, and faster growing plants can produce more yields. Testing this product will show the answer. Seeing is believing. OMG Fertilizer Company is so confident in this product, free samples are being offered to qualified growers while supplies last for a limited time. Offer valid in the US only. Contact a representative at (310) 977-0346 or at usmcgy01(at)yahoo.com
Under no circumstances may the information contained in our Internet pages or product literature be construed as warranty of any kind, expressed or implied.