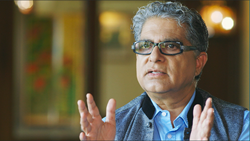 As someone who's been a leader in the growth of health and wellness as an industry, I have been humbled to work with some of the greatest thought leaders in the health, wellness, motivational and spirituality spaces," said Heidi Krupp, CEO
NEW YORK, N.Y. (PRWEB) June 27, 2017
Krupp Kommunications (K2), a full-service public relations, marketing, and branding agency currently celebrating its 21st anniversary, announced the new documentary HEAL has joined its client roster.
HEAL takes its audience on a scientific and spiritual journey as director/writer/producer Kelly Noonan Gores and producer Adam Schomer reveal that we have more control over our health and life than we have been taught to believe.
The 105-minute film follows real people on authentic healing journeys who gain powerful revelations on the incredible influence the mind has on our ability to heal, and on our overall health. Audiences discover that we are not victims of our family genes, but truly have the power to heal virtually any "dis-ease," even "terminal" illnesses, through our thoughts, beliefs, perceptions and emotions.
The film features interviews with Deepak Chopra, Bruce Lipton, Marianne Williamson, Michael Beckwith, Gregg Braden, Anita Moorjani and other leading scientists, teachers and experts on the mind-body connection who describe and highlight the relationship between spirituality and science.
"One of the biggest influences I had in why I decided to make this film was reading Anita Moorjani's book, 'Dying To Be Me,' and her amazing recovery from Stage 4 cancer," said Gores. "I learned that it's never too late for the body to heal. I realized that I must do something to send this powerful message to as many people as I can."
HEAL made its work premiere at the Illuminate Film Festival in Sedona, AZ and will continue to unveil at various film festivals across the country, including the Maui Film Festival on June 25th.
"As someone who's been a leader in the growth of health and wellness as an industry, I have been humbled to work with some of the greatest thought leaders in the health, wellness, motivational and spirituality spaces," said Heidi Krupp, CEO and Founder of Krupp Kommunications. "HEAL gives us a clear insight into holistic approaches and possibilities of how we can truly heal. This documentary fits beautifully into our elevated living space that we are creating here at Krupp."
###
About Krupp Kommunications, Inc.
Established in 1996, Krupp Kommunications (K2) is an award-winning integrated public relations and marketing agency specializing in brand development for lifestyle, entertainment, and publishing properties. We ignite brands that help consumers help themselves by fostering the emotional need through national and grassroots activation.
For more information, please visit http://www.kruppkommunications.com
Check out our LinkedIn
Follow us on Twitter @KruppKomm
Read our stories on Facebook
Watch us on Instagram @kruppkommunications
About HEAL
Director Kelly Noonan Gores' documentary takes us on a scientific and spiritual journey where we discover that our thoughts, beliefs, and emotions have a huge impact on our health and ability to heal. The latest science reveals that we are not victims of unchangeable genes, nor should we buy into a scary prognosis. The fact is we have more control over our health and life than we have been taught to believe. This film will empower you with a new understanding of the miraculous nature of the human body and the extraordinary healer within us all. HEAL not only taps into the brilliant mind's of leading scientists and spiritual teachers, but follows three people on actual high stakes healing journeys.
For more information, please visit http://www.healdocumentary.com