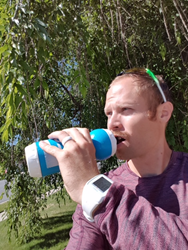 "Whether I'm in the classroom teaching a lesson or standing at the starting line ready to race, I know my Groove Ring will stay comfortable no matter where I am." Jared Ward, Olympic Long Distance Runner
San Marcos, California (PRWEB) June 22, 2017
Groove Ring is excited to announce they've partnered with Olympic runner Jared Ward to help spread the word about their high performance silicon wedding bands and all-purpose rings. Whether you're an athlete, adventurer, professional, or love to venture the great outdoors, Groove Rings are the active, silicone rings designed just for you.
From the rock face to the auto shop, Groove Ring is the world's first breathable silicone ring that's built for both work and play.
Unlike rigid metal bands that can get caught on rocks, branches, or in machinery, Groove Rings are designed to move with the finger and break away when danger strikes.
An Olympic athlete and BYU Statistics professor, Ward goes the extra mile in whatever he sets his mind to. Learn why Ward gives Groove Ring an A+:
"Whether I'm in the classroom teaching a lesson or standing at the starting line ready to race, I know my Groove Ring will stay comfortable no matter where I am."
Groove Ring Specs:
Low profile prevents snags
Air ports allow fingers to breathe
Recessed grooves provide increased airflow
Liquid injected design gives a flawless finish
Comfort fit inner arch and eased edge lessen skin contact
Available in an array of fashion forward colors and classic neutrals for men and women
Comes with a Lifetime Warranty
Don't take our word for it – read what Groove Life founder Peter Goodwin has to say:
"What's so great about Groove? While I was guiding people in the bush of Alaska, I wanted to provide people with tough, practical activewear that can be used anywhere from the trail, gym, or even on a hot date. Raising the bar on traditional silicone rings with its flexible material, patent pending inner breathable design, and bold colors, Groove Rings is a reminder of a commitment we all make to push past our limits, to be our best, and to live each day with purpose."
Athletes, carpenters, outdoorsmen, and more agree that the Groove Ring is an affordable way to show off their style and commitment without sacrificing safety.
Groove Rings can be purchased online or at select retailers nationwide.
About
Groove Life launched in 2016 with the release of their flagship product the Groove Ring. Founder Peter Goodwin wanted to wear a ring that showed his commitment to his family while meeting the demands of his work as an Alaskan guide and wilderness lodge owner. His creation not only offers durability and functionality, but rugged good looks as well.