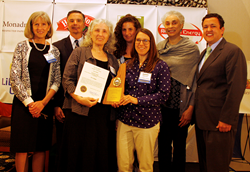 As a leader in your field, your commitment to promoting corporate social responsibility and setting a high standard of excellence for your peers and colleagues to follow is admirable
Gilsum, New Hampshire (PRWEB) June 22, 2017
W.S. Badger Co. Inc., the maker of certified organic and truly natural skin care products, was recently inducted into the New Hampshire Businesses for Social Responsibility (NHBSR) Cornerstone Hall of Fame.
Badger, a 2013 winner of the NHBSR Cornerstone Award, was honored for its environmental practices, unique family-friendly benefits such as a babies-at-work program, subsidized near-site childcare, and free and daily organic lunches for every employee, and charitable contributions to the community. The company's commitment to the environment and social principles is deeply rooted and began twenty-two years ago when the founder and his family started hand filling the first tins of Badger Balm in their kitchen.
Badger was inducted into the hall of fame on May 3rd during NHBSR's annual conference at the Grappone Conference Center in Concord, New Hampshire. As part of the ceremony, Badger received a plaque and letter of commendation from Governor Chris Sununu, which states, "As a leader in your field, your commitment to promoting corporate social responsibility and setting a high standard of excellence for your peers and colleagues to follow is admirable."
NHBSR, a member-based non-profit organization that fosters socially and environmentally responsible businesses in New Hampshire, awards the hall of fame annually to an individual, organization, or company exemplifying the concepts of corporate responsibility within their organization and the greater business community in the state of New Hampshire. Inductees remain in the hall of fame for three years.
Service Credit Union sponsored the 2017 Awards Ceremony.
ABOUT BADGER
Badger is a family run and family-friendly company that has been making healthy products for people and the planet since 1995. Badger was born when Badger Bill, a carpenter at the time, created a recipe of natural ingredients strong enough to soothe his rough, dry, cracked hands. Now a team of over 100 employees, Badger produces almost all of its products in Gilsum, N.H. Inherent in Badger's DNA is its status as a B Corp, a certification earned through B Lab, a third party nonprofit that requires companies to meet rigorous standards of transparency as well as environmental and social performance. Badger has been a certified B Corp since 2011 and in 2015 became one of New Hampshire's first businesses to register legally as a Benefit Corporation, a for-profit status that incorporates the pursuit of positive environmental and social impact in addition to profit. The company recently published its annual report for 2016. A downloadable PDF can be found here.
ABOUT NHSBR
New Hampshire Businesses for Social Responsibility is a member-based non-profit organization that fosters socially and environmentally responsible business in New Hampshire, realizing that people, principles and profits must be linked. As sustainable business becomes mainstream, NHBSR's network of CSR-focused business leaders provides the support to encourage the growth of sustainability throughout the state with value-driven results. NHBSR is the business organization driving the social responsibility agenda in New Hampshire. For more information, visit http://www.nhbsr.org.