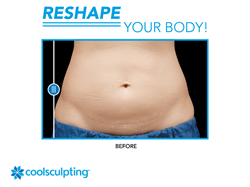 HOUSTON, TX (PRWEB) June 21, 2017
Paul Vitenas MD FACS and the staff at Mirror Mirror Beauty Boutique are excited to announce their annual summer CoolSculpting(r) event, from 4-7:30 p.m., on Wednesday, June 28th. Wine Down Wednesday is designed to educate clients about the rejuvenating body-sculpting technique, perfect for Houston's long summer season. Everyone is invited to attend Mirror Mirror Beauty Boutique's CoolSculpting(r) party.
The Mirror Mirror Beauty Boutique Wine Down Wednesday will provide guests and potential patients an opportunity to tour the facility, learn about the CoolSculpting(r) technique, meet the aesthetic team, watch live demos and get in on a variety of one-time-only specials. Dr. Vitenas will be on hand to explain the CoolSculpting(r) procedure in detail and answer questions. Guests will also enjoy music, photo opportunities, complimentary champagne and decadent treats.
CoolSculpting(r) utilizes the science of Cryolipolysis, freezing away fat cells without surgery. Approved by the Food and Drug Administration (FDA), CoolSculpting(r) is a safe and effective method for reducing isolated fatty tissue by up to 25%. Utilizing a variety of specially designed devices, CoolSculpting(r) technology can be used on the double chin, bra fat, back fat, upper arm, abdomen, flank (muffin top, love handles), banana roll (underneath the buttock), saddlebags, inner/outer thigh, distal thigh and stubborn lumps and bumps. Treatment takes less than an hour and requires no downtime.
Mirror Mirror Beauty Boutique is one of the largest CoolSculpting(r) practices in Houston. Founded by Dr. Paul Vitenas, the Richmond Avenue medispa offers patients a one-of-a-kind experience in an upscale facility. Private treatment rooms with free Wi-Fi and Netflix ensure a comfortable treatment. Additionally, Mirror Mirror Beauty Boutique gives patients the option of DualSculpting, or two CoolSculpting(r) medical device, easily treating two areas during one session. Complimentary covered parking means patients can get in and out with ease, quickly returning to their normal routine.
Each treatment is performed by one of Mirror Mirror Beauty Boutique's renowned staff, each a graduate of the prestigious CoolSculpting(r) University in California. Trained by the creators of CoolSculpting(r), the Mirror Mirror Beauty Boutique staff has extensive knowledge in the best techniques, providing unmatched body sculpting results.
Everyone is welcome at Mirror Mirror Beauty Boutique's Wine Down Wednesday, but space is limited. Those interested are encouraged to RSVP by calling the office at 281.810.9083. Those who cannot attend Wednesday's CoolSculpting(r) event can speak with a patient coordinator to schedule a private, complimentary consultation. Find out more about the benefits of CoolSculpting(r) by visiting the website, or downloading a PDF copy of Mirror Mirror's eBook, CoolSculpting: Get Rid of Unwanted Fat Without Surgery.