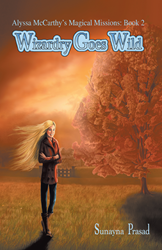 OYSTER BAY, N.Y. (PRWEB) June 26, 2017
After overcoming the dark sorcery of an evil wizard at the age of 12, Alyssa McCarthy has returned for another foray into the world of magic. In "Wizardry Goes Wild," by Sunayna Prasad, protagonist McCarthy must fight to control her own powers after an old, depressed skeleton curses her with unwanted magical abilities.
In Prasad's newest fantasy series installment, 13-year-old McCarthy attempts to keep the powerful destruction of her unwanted abilities at bay by utilizing a skillometer – a special device that measures bravery and confidence. Her havoc-wreaking powers continue to escalate, placing herself as well as her family and friends in harm's way.
"I love reading both fantasy stories and stories set in modern times," Prasad said. "I've incorporate both of those elements into this series and, through Alyssa's strong character presence, hope to keep readers captivated by her magical journey."
"Prasad weaves magic and technology together in a believable way, dreaming up magic phone apps and online wizarding resources," a U.S. Review of Books reviewer wrote. "The book shines in its use of sensory descriptions, easily placing the reader in Alyssa's shoes."
With an original, eclectic cast of magical creatures, "Wizardy Goes Wild" explores themes of friendship through the age-old conflict of good versus evil. Prasad offers readers an entertaining continuation of McCarthy's harrowing journey through her teen years that will leave them ready for her next adventure.
"Alyssa McCarthy's Magical Missions: Wizardry Goes Wild"
By Sunayna Prasad
ISBN: 978-1-490-77023-9 (hardback); 978-1-490-77021-5 (paperback); 978-1-490-77022-2 (electronic)
Available at the Trafford Publishing Online Bookstore, Barnes & Noble and Amazon
About the author
Sunayna Prasad was born in Houston and raised in Long Island, N.Y. Prasad has been writing stories since she was 6 years old and particularly enjoys composing children's fiction. She currently resides in Oyster Bay, N.Y., has an associate degree in accessory design and attends Adelphi University. For more information, please visit http://www.sunaynaprasadbooks.com.
###
Review Copies & Interview Requests:
LAVIDGE – Phoenix
Danielle Grobmeier
480-998-2600 x 614
dgrobmeier(at)lavidge(dot)com
General Inquiries:
LAVIDGE – Phoenix
Maggie Driver
480-998-2600 x 584
mdriver(at)lavidge(dot)com