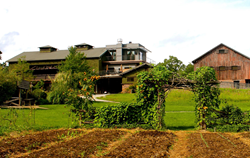 Indianapolis, IN (PRWEB) June 22, 2017
The Garden Club of America's Zone X Meeting held in Cincinnati Ohio, recently recognized Jane Elder Kunz as the 2017 Conservation Award winner. She is an Indianapolis resident and co-owner of Traders Point Creamery, the first USDA certified organic dairy farm in Indiana. The award honors the company's commitment to organic farming, conserving the land, and promoting the sustainable farm to table movement.
"The Kunz family business exemplifies the very best in land stewardship," says Dede Petri, president-elect of the Garden Club of America. "They have established land practices that are setting an example for the Midwest and beyond."
The organic, 100% grassfed dairy farm at Traders Point Creamery rotates livestock through a series of paddocks, a system called managed rotational grazing, which helps keep the grassland healthy above and below the surface. Their farming is chemical-free, which promotes pollinator health, biodiversity, and healthy habitats. To reduce food waste, the creamery feeds its kitchen scraps and leftover whey from cheesemaking to their pasture-raised pigs, who help maintain healthy soil and fields.
Gail Alden, Director of Marketing & Events at Traders Point Creamery, says, "We are thrilled that the Indianapolis Garden Club has recognized the contributions of the Kunz family and their business to the greater good of our land, our health, and our world. We all benefit when food is raised and served in such responsible, nourishing ways, and we can all be grateful for their vision."