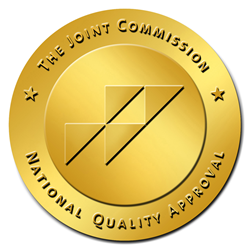 After an in-depth review of hundreds of Joint Commission standards, Home Care Medical has been officially reaccredited for another three years. - Kandy Raether, Interim President
(PRWEB) June 22, 2017
New Berlin, Wisconsin - Home Care Medical, Inc. one of Wisconsin's largest and most respected providers of home medical equipment, respiratory care and rehab technology has received reaccreditation from the Joint Commission.
Founded in 1951, the Joint Commission, a national accreditor of health care organizations, is dedicated to continuously improving the safety and quality of the nation's health care through accreditation. During an unannounced four-day on-site survey, each of Home Care Medical's Corporate and Retail Store locations were evaluated for its compliance with the Commission's national standards of quality care specific to the needs of patients. Utilizing the Tracer Method to analyze an organization's compliance with their rigorous standards, the Joint Commission evaluates the care and services provided from the time the call comes into the organization until the cash is posted to the client's account. Organizational leadership and industry challenges are also reviewed.
"This year's Joint Commission reaccreditation focused heavily on respiratory care and power mobility services, emergency management and assessing risk throughout the organization and for the clients that we serve," explains Joint Commission liaison, Melissa Kempken, Home Care Medical Manager of Quality Assurance and Corporate Compliance. The surveyor, who has been with the Joint Commission since 1995, stated that she was impressed by the longevity of Home Care Medical's staff. She felt the commitment to quality and patient safety was apparent through all of her interactions and observations.
"After an in-depth review of hundreds of Joint Commission standards, Home Care Medical has been officially reaccredited for another three years," explains Kandy Raether, Interim President, Home Care Medical, Inc. "As the first accredited home medical equipment company in the state of Wisconsin in 1990, we continue to improve the quality of the care, services and products we provide. I am extremely proud of our team members and their dedication to excellence."
About Home Care Medical, Inc.
Serving Southeastern Wisconsin since 1974, Home Care Medical, Inc. provides enteral nutrition; rehab technology; respiratory care; home medical equipment and supplies; and bracing and compression garments. Accredited by the Joint Commission and an active member of WAMES, the MedGroup and AAHomecare, Home Care Medical's mission is to enhance the lives of those we serve.
Home Care Medical, Inc. Locations:
Corporate Headquarters, 5665 South Westridge Drive, New Berlin, Wisconsin
Milwaukee Retail Store, 4818 South 76th Street, Milwaukee, Wisconsin
Sheboygan Retail Store, 2922 South Business Drive, Sheboygan, Wisconsin
West Bend Retail Store, 1709 South 18th Avenue, West Bend, Wisconsin