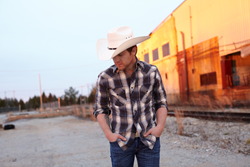 He's a real treasure, a guy who's working hard and, as a relative newcomer, has quite an impressive list of top hits.
(PRWEB) June 22, 2017
Six no. 1 country hits, seven in the top ten, and three albums that debuted at no. 1 has earned Justin Moore the right to not only grab a drink at the Sturgis Buffalo Chip®, but to also take control of its world-famous Wolfman Jack Stage on Monday, Aug. 7. Moore's latest hit single, "You Look Like I Need a Drink" has taken both country music lovers and the charts by storm following a whirlwind of musical successes. Moore will take the stage just prior to GRAMMY-winners The Doobie Brothers and following "The Electric Reverend" Jimmie Bratcher.
"We've got some serious country music fans here at the Chip," said Rod Woodruff, President of the Sturgis Buffalo Chip. "And they are going to go crazy for Justin Moore. He's a real treasure, a guy who's working hard and, as a relative newcomer, has quite an impressive list of top hits."
Moore's true-blue country hits include "Small Town USA," "Point at You," "Lettin' the Night Roll" and "If Heaven Wasn't So Far Away." He was American Country Music's 2014 "New Artist of the Year" and has sold nearly eight million digital downloads.
The Buffalo Chip's 2017 Schedule is nearly complete:
Fri., Aug. 4
Dirt Riot Off-Road Racing (Free to the Public)
Drowning Pool
Trapt
The Flaunt Girls
Sat., Aug 5
RATT
Night Ranger
Dirt Riot Off-Road Racing (ticketed separately)
Motorcycles as Art Exhibit Opens Free to the Public
Sun., Aug. 6
Shinedown
American Flat Track - AMA Pro Grand National Championship Event
Presented by Indian Motorcycle
FXR Bike Show and Dyna Mixer
Mon., Aug. 7
The Doobie Brothers
Justin Moore
Legends Ride®
Full Throttle Florida Magazine Bike Show
Tues., Aug. 8
Lynyrd Skynyrd
Blackberry Smoke
Biker Belles®
Full Throttle Florida Magazine Bike Show
Sportster Showdown Bike Show
Wed., Aug. 9
Ozzy Osbourne
Pop Evil
Street Drag Invitational with Crazy John
RSD Super Hooligan Races
Presented by Indian Motorcycle
Thurs., Aug. 10
Blink-182
George Thorogood and the Destroyers
Freedom Celebration and Ride
Rat's Hole Bike Show
Doug Danger's World Record Rattlesnake Jump on Evel Knievel's 1972 XR750
Fri., Aug. 11
Alter Bridge
AMA Supermoto Races
More Headlining Concerts to be Announced Soon
Sat., Aug. 12
AMA Supermoto Races
Headlining Concerts to Be Announced Soon
The Buffalo Chip will be announcing more entertainment in the coming weeks. Those interested can get more information and purchase passes at BuffaloChip.com.
About The Sturgis Buffalo Chip
The Sturgis Buffalo Chip® is the Largest Music Festival in Motorcycling®. It is the world's first and leading entertainment destination for the motorcycle enthusiast and 2017 South Dakota Excellence in Tourism Innovation award winner. Since 1981, the venue's high-profile, nine-day festival, known as The Best Party Anywhere®, remains one of the world's most televised and longest running independent music festivals. Located three miles east of Sturgis, SD on 600 creek-fed acres, it offers eight stages of entertainment, a swimming hole, bars, mouth-watering food, showers, cabins, RVs, camping and more to visitors traveling from all corners of the world. The Chip's concerts are free with camping. The 2017 Motorcycles as Art exhibit, "Old Iron/Young Blood - Motorcycles and the Next Gen" curated by Michael Lichter, numerous bike and stunt shows and all shopping, live music and events at the CrossRoads are free and open to the public. More details are available at http://www.BuffaloChip.com.