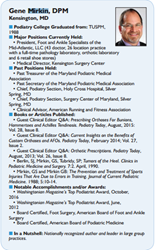 Rockville, Maryland (PRWEB) June 26, 2017
Podiatry Management, a publication professionals within Podiatric Medicine look to for staying current on topics within the field has, since 2001, recognized Podiatrists whom carry a high-level of influence within Podiatry. The list is a prestigious one, comparable to that of Forbes Magazine's 40 under 40 list, absent the age restriction. Podiatry Management began this initiative in 2001, compiling a list every five years.
Consulting editors of the publication are asked to select 25 Doctors of Podiatric Medicine (DPM) based on how influential they are, compiling a list of already known heavy hitters in the field. This year, to create balance, readers of the magazine's online publication, PM News, were invited to participate in the composition of the list, on the condition the Podiatrist still practices medicine.
In Part 2 of the Most Influential Podiatrists list, Dr. Gene Mirkin of Foot and Ankle Specialists of the Mid-Atlantic, LLC (FASMA), stands out for being a leader in large group practices. Dr. Mirkin serves as FASMA's President and one its founding members. Dr. Mirkin is also a nationaly recognized author, and has held high positions in the past as Treasurer of the Maryland Podiatric Medical Assocaition and Chief of Podiatry at two major Maryland hospitals.
The Podiatric Supergroup was established in 2011, growing from a small number of practices and doctors in Maryland to 31 locations and 50 doctors across Maryland, Washington D.C. Virginia and Pennsylvania. The organization is also notable in that it owns its own Pathology lab situated at its Rockville, Maryland corporate headquarters. As the practice grows, it will be interesting to see if FASMA will further promote an integrative approach to Podiatric Medicine.