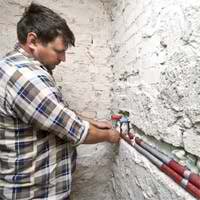 The risk of pleural mesothelioma continued to increase even after 40 years since the last exposure.
Raleigh, NC (PRWEB) June 22, 2017
Scientists in Poland say people who have not worked around asbestos for decades are more likely to receive a mesothelioma diagnosis than those who were exposed more recently. Surviving Mesothelioma has just posted an article on the new study. Click here to read it now.
Researchers at the Nofer Institute of Occupational Medicine analyzed the cases of 131 mesothelioma patients as well as 655 controls enrolled in an asbestos-related diseases surveillance program.
"The results show that the risk of pleural mesothelioma continued to increase even after 40 years since the last exposure," write researchers Beata Swiatkowska and Neonila Szeszenia-Debrowska.
The study in the journal Lung Cancer suggests that asbestos type may also have an impact on risk; workers employed in places that used multiple kinds of asbestos had a higher chance of receiving a mesothelioma diagnosis than those who only worked with chrysotile asbestos.
"This study is a sobering reminder that no one who has worked around asbestos can afford to let his or her guard down when it comes to watching for early signs of malignant mesothelioma," says Alex Strauss, Managing Editor for Surviving Mesothelioma.
Read the details of the new study and learn more about the link between asbestos exposure and malignant mesothelioma in Mesothelioma Risk Continues to Rise for Decades After Asbestos Exposure, now available on the Surviving Mesothelioma website.
Swiatkowska, B and Szeszenia-Dabrowska, N, Mesothelioma continues to increase even 40 years after exposure - Evidence from long-term epidemiological observation", June 2017, Lung Cancer, pp. 121-125, http://www.lungcancerjournal.info/article/S0169-5002(17)30267-2/abstract
For more than a decade, Surviving Mesothelioma has brought readers the most important and ground-breaking news on the causes, diagnosis and treatment of mesothelioma. All Surviving Mesothelioma news is gathered and reported directly from the peer-reviewed medical literature. Written for patients and their loved ones, Surviving Mesothelioma news helps families make more informed decisions.