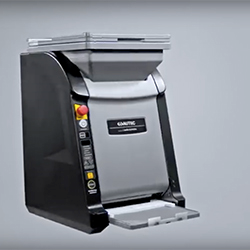 Industry City, NY/USA (PRWEB) June 22, 2017
AUTEC, the nation's leading provider in commercial robotic sushi machines, will expand its U.S. operations with a showroom in New York. AUTEC plans for the showroom to focus on sustaining the company's increasing sales growth due to the country's rising awareness in obesity and quality sushi as it's solution.
"In the past 10 years, we've seen a steady escalation of sushi restaurants in America with an annual average increase of 125%, fueling the country's ever-growing appetite for sushi," says Taka Tanaka, AUTEC's President. "Obesity has been an issue for Americans and we have seen consumers become progressively health conscious over the years. Sushi is now considered a healthy dining option, which we believe to have contributed in the country's spike of sushi restaurants and cause the industry to focus and care about quality control."
Sales for AUTEC's products and services have spanned across the U.S. with a sudden boom on the east coast, prompting the company to choose New York's Industry City to support their Torrance, California headquarters. "The demand has doubled for our company as word has traveled in the past year from coast to coast that our products reduce operation and labor costs with robots that create consistent and high-quality sushi in par with a trained sushi chef, therefore investment in the area made sense," explains Tanaka.
The new showroom will feature AUTEC's entire sushi robot line known for its compact, stylish design and its outstanding production speed of sushi. Highlights include nigiri maker ASM410 that can produce up to 2,400 rice balls per hour and the ASM 865 that can produce up to 1,400 rice sheets per hour for maki (roll type) sushi or sushi burrito. These innovative and made-in-Japan products that reflects the voice of customers gives Tanaka hope to fulfill his goal of broadening AUTEC's business, as well as creating opportunities to develop design focused products meant for open kitchen usage and technically advanced products using M2M (machine to machine communication).
AUTEC's New York grand opening will be on June 29th (closed to public) and interested parties can visit the showroom during business hours (10AM– 6PM) Monday through Friday by contacting the showroom for an appointment – 917-979-0633.
For more information on AUTEC, please visit: https://sushimachines.com
Press Contact: Shota Kondo, 718-887-5052 shota(at)autecusa(dot)com
About AUTEC Inc:
AUTEC is the brainchild of Audio-Technica, an audio equipment manufacturer in Japan. In the 1980's when vinyl records were taken over by CDs and the company's focus was on record needles, Audio-Technica held an "idea" contests amongst its employees to create a breaking new product; the result was a toy sushi maker for children. In 1984, "ASM50 Nigirikko" was created and a new endeavor beyond audio products was born. Since then, AUTEC has expanded to Nigiri, Maki (for roll type), Omusubi (rice balls) making robots, sushi conveyor belts and sushi rice mixer, allowing restaurant businesses to flourish without the need of a trained sushi chef. AUTEC's products are available and distributed beyond Japan and U.S. and now also in Canada and Mexico.