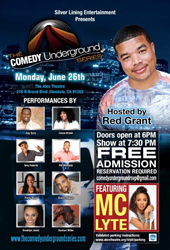 Los Angeles, CA (PRWEB) June 22, 2017
Premiering on UMC – Urban Movie Channel this summer
To Be Filmed Live at The Alex Theatre in Glendale, CA on June 26th, 2017.
Hosted By Red Grant & Featuring DJ MC Lyte
Admission FREE with RSVP at comedyundergroundrsvp@gmail.com
Once again introducing and spotlighting some of the world's hottest new comedic talent, Silver Lining Entertainment (SLE) announces "The Comedy Underground Series" Season 2. "The Comedy Underground Series" provides a platform for fresh voices in the world of comedy in addition to celebrating established acts via an inventive combination of live performance and documentary footage showcasing their respective stories. The series is set to continue its run on UMC – Urban Movie Channel, the first premium subscription streaming service that showcases quality African American and urban entertainment across all genres.
Angela White, SLE President and the Creator and Producer of the series along with Producer Carol Ann Shine have officially partnered with UMC to produce The Comedy Underground Series, Season 2 and will be filmed live at the Alex Theatre in Glendale, CA on June 26, 2017. Admission is free for fans with a reservation at http://www.thecomedyundergroundseries.com.
For The Comedy Underground Series, Season 2, previously featured comic Red Grant returns as the evening's host, while MC Lyte reprises her role as DJ and ringmaster for the event . Boasting a powerhouse roster of hilarious talent, the comedians include Guy Torry, Brooklyn Jones, Rip Micheals, Tony Roberts, Pretty Ricki, Cocoa Brown, Zooman Miller, and Ocean Glapion. It's bound to be nothing short of an epic comedy explosion, and, if you're in Southern California, don't miss it! For those out of state, be sure to tune in to UMC this summer as the Show is featured as part of UMC's Fall Out Fridays summer comedy lineup.
Get ready and join us for another landmark night of comedy with "The Comedy Underground Series" Season 2 and then catch the new season streaming on UMC this summer!
ABOUT THE COMEDY UNDERGROUND SERIES
Comedy is a universal cure for what ails us and the power of laughter can touch, relieve and help us transcend any ethnic or gender barriers at home and around the world. "The Comedy Underground Series" looks to break fresh new faces and re-introduce seasoned veterans, who are currently absent from the mainstream television and media. The series is shot with segments featuring a docu-style format, so we can hear first hand about a comic's journey on the road to stardom. We aim to have this series emerge as a funny and thought provoking stand-up comedy show with a twist of "real life."
A comedian's path is not always easy but they do their best every performance to bring laughter where there is need and an audience. We salute comedians as they are examples that there is always a Silver Lining…..
ABOUT SILVER LINING ENTERTAINMENT
Silver Lining Entertainment ("SLE") is an independent production company based in Los Angeles, California. Established in 1997 in New Jersey by founder Angela White, the Company's mission is to develop independent television and film projects with a multi-cultural perspective, from inception to completion, for worldwide distribution. SLE's current focus is on forging strategic relationships with other production companies, writers, directors, talent and producers to create, develop, produce and distribute compelling stories with core family values to targeted audiences throughout the global marketplace.
ABOUT UMC – URBAN MOVIE CHANNEL
Created by Robert L. Johnson, Chairman of RLJ Entertainment and founder of Black Entertainment Television (BET), Urban Movie Channel (UMC) is the first subscription streaming service created for African American and urban audiences in North America that features quality urban content and showcases feature films, documentaries, original series, stand-up comedy, and other exclusive content. UMC is available on iOS, Apple TV, Amazon Channels, Roku, Amazon Fire TV & Fire TV Stick. For more information, please go to http://www.UMC.tv.