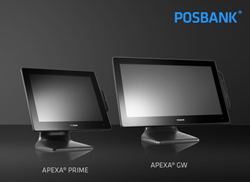 Meet the new APEXA® family offering versatility, style, and functionality.
SEOUL, SOUTH KOREA (PRWEB) June 29, 2017
Posbank Co., Ltd., a global leading provider of Point of Sale (POS) solutions, announced that the company launches new additions to the APEXA® series, APEXA® PRIME and APEXA® GW.
The Posbank APEXA® PRIME, a new addition to the APEXA® series, is compact in size yet giant in performance. Powered by 6th Generation Intel® Core™ i5 processor, the APEXA® PRIME delivers fast and powerful performance and reliable operation that are more than enough to run today's mission-critical POS applications. Continued from the APEXA® G, its predecessor, the APEXA® PRIME features the same modern look of the APEXA® G and compact body with small footprint to save valuable counter space. In addition, the new APEXA® PRIME offers multiple I/O interfaces and optional powered USB for more retail peripheral connection.
The APEXA® GW is simply built for today's retail and hospitality environments that require stylish and versatile solutions by offering flexible installation, improved connectivity, advanced design, and powerful performance by Intel®'s latest high-performance processors(Core™ i5-6200U, Pentium® 4405U, Celeron® J1900). Built with various applications for today's complex retail and hospitality environments in mind, the APEXA® GW is a highly versatile solution for staff and customers. Its 19.5" wide touchscreen enables users to see more and do more while bringing new interaction opportunities. For customer-facing or self-service applications, the APEXA® GW transforms itself into a kiosk. The APEXA® GW, spill and dust resistant, is suitable for retail heavy or food service environments.
"Our new POS terminals have been developed to meet changing needs of global customers. Upon its showcasing, we have already received fair-sized order at home and abroad." said Steve Eun, president and CEO at Posbank. "We expect the new APEXA® series to help our customers successfully run their business by offering versatility, style, and functionality." Eun added.
To experience latest innovations of Posbank's POS solutions, please visit http://www.posbank.com or follow us on Facebook, YouTube and LinkedIn.
About Posbank
Posbank is the global provider of Point of Sale solutions, with more than 200 customers in over 80 countries. Based on customer-focused engineering and years of experience, Posbank provides POS terminal, touchscreen monitor, POS printer, peripheral and POS software for hospitality and retail industries. Posbank now focuses more on innovative POS system and custom solutions that meet specific needs of various global customers.
Press Contact
Daniel Kim
Marketing manager, Posbank Co., Ltd.
Email: marketing01(at)posbank.co.kr
Tel: +82-2-2626-9109