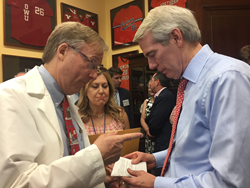 This is why twelve Cleveland doctors went to Washington to tell senator Portman they fear for their patients' lives.
Cleveland, Ohio (PRWEB) June 22, 2017
Who's driving to Washington D.C. to try to save your healthcare? If you live in Ohio, it could be your doctor.
 
Since May, twelve practicing physicians from Doctors for Health Care Solutions, a Cleveland-based patient advocacy organization, have gone to Washington D.C..
They took time off from their practices to urge Ohio Senator Rob Portman to vote against repealing the Affordable Care Act and Medicaid expansion. Ohio's other Senator, Sherrod Brown, supports Improving the ACA.
The risks to Ohioans' healthcare and finances are significant. The ACA and Medicaid expansion cover 714,000 Ohioans including many of Ohio's children and nursing home residents. Loss of insurance could cost Ohio nearly 2,000 lives each year, including many receiving treatment for opioid addiction. 
Loss of coverage through Obamacare could also increase hospital costs for all Ohioans. Emergency rooms can't turn away uninsured patients seeking medical care. These unpaid ER costs will be covered by the rest of us when we visit the hospital.  
 
There is no currently plan to cover patients who lose their coverage under the healthcare bill released by congress. Senator Portman told physicians that federal funds for healthcare need to be diverted toward rebuilding our military and other programs. The U.S. currently spends more on defense than the next eight biggest defense spenders combined. 
 
A Portman staffer said Medicaid creates incentives for people to not work, but provided no data to back that up.  Another staffer listened to stories about the lives a physician saved because her patients sought care through the Medicaid expansion. The staffer admitted that statistics about Medicaid patients are hard to find.  
On June 13, Senator Portman announced that he is for a complete end to the Medicaid expansion across the United States. Coverage would be phased out completely within seven years. 
The Senate is foregoing public hearings to secretly craft its healthcare bill. They intend to rush to a vote on the bill by July 5.
This is why twelve doctors went to Washington to tell Senator Portman that they fear for their patients' lives.
         
Doctors Organized for Healthcare Solutions (DOHCS) is a Cleveland area -based group of 450 doctors who advocate on behalf of the health of their patients and the greater Cleveland community, not the well-being of physicians.
Formed in 2004 by Lana Moresky, DOHCS  became a nexus for progressive doctors to support progressive policies. The group supports candidates who have demonstrated commitments to making Cleveland's children and adults healthier.
Physician members represent every major medical center in Cleveland. They include specialists from surgery, anesthesiology, radiology, primary care, and other medical specialties. Together, DOHCS physicians serve over half a million patients in Cleveland.
DOHCS has forged a strong alliance with Doctors for America, a national organization of 17,000 doctors who promote progressive politics and policies. Dr. Lavin of DOHCS also serves as a co-director for Doctors for America for the State of Ohio.
DOHCS is open to all physicians in Greater Cleveland. Membership is free. Each physician is in charge of their level of participation, from simply receiving updates to participating in events to make the nation better. To join, email dohcsmd(at)gmail.com.