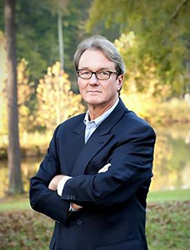 The issue is how we fill prisons, not on what happens when U.S. citizens get there.
Warsaw, Poland (PRWEB) June 23, 2017
Howell Woltz, author of "Justice Restored: Ten Steps to End Mass Incarceration in America," rebukes quick-fix prison reforms that fail to restore a citizen's rights to habeas corpus, the right to bail, and the right to a speedy and public trial, as guaranteed by the U.S. Constitution. "The issue is how we fill the prisons," reports Howell Woltz, "not on what happens when U.S. citizens get there."
Recently, in North Carolina, investigative reports of prison corruption involving beaten, shackled prisoners, drugs, sex and gang violence seared the headlines. Public outrage prompted the governor and lawmakers to declare bipartisan shock, zero tolerance and a determined boost of higher pay and the training of all prison guards as corrective remedies.
"Prison is a horrifying disease," retorts Howell Woltz, published author and ex-prisoner himself. "Restoration of due process of law is its only prevention."
Woltz spent seven years in federal prison, though never tried or convicted in any court of jurisdiction. His earlier book, "Justice Denied," speaks of his arrest just outside his home in North Carolina. Both he and his wife were charged with conspiracy to defraud the U.S. government, jailed and illegally held, without bail, by the prosecutors.
The Kirkus Review describes his story as a "memoir of judicial tyranny."
Today, Howell Woltz is a strong advocate for judicial reform. The first step, he asserts, is the restoration of habeas corpus or the right for anyone jailed to appear before a court of jurisdiction where his captors must explain the cause of his restraint.
The writ, in place since 1776, was changed by Congress in 1996, as part of the Anti-Terrorism and Effective Death Penalty Act (AEDPA) in hopes to end multiple Death Row appeals. However, the imposed statute of limitations also prevents a prisoner from applying for release after being imprisoned for a year. Further, any federal appeal must show deference to decisions made in a state court.
"Our court dockets are in overload," argues Woltz "In 365 days, the arrested prisoner may never see the inside of a court room."
Instead, his stare will be at prison bars and dirty walls pocked with graffiti. Further, reports Woltz, his hope for bail is paltry.
The Bail Reform Act of 1984 suspended the right to bail, despite its basis on the Eighth Amendment. The Act protects the community against violent criminals. Unfortunately, a judge has great leeway and the cases are no longer for only capital offenses.
Woltz is a vociferous critic of the U.S. judicial system. "Our system is marred by its lack of equitable relief for its imprisoned citizens, including a speedy, public trial," he insists.
The Sixth Amendment demands the right to a speedy and public trial. However, the USA Patriots Act of 2001 gutted major provisions. Consequently, detention authorities can hold U.S. citizens indefinitely if caught within the boundaries of the U.S.
"Without the right to a speedy, public trial, rampant prosecutorial mischief and overcrowded prison conditions will never end," argues Howell Woltz. "Instead, we will see an increased spate of plea bargaining and guilty pleas, forced under the pressure of relentless questioning and the threat of violence inside empty stairwells and bristling cellblocks, jammed with inmates."
In prison, Howell Woltz worked on over 400 non-capital cases, filing appeals for fellow inmates unjustly convicted or whose rights were blatantly violated. His book, Justice Restored: Ten Steps to End Mass Incarceration in America, ends each chapter with the story of one such prisoner helped by Woltz, plus two or three action steps to curb the judicial system's wrongs.
Endorsed by the Center for Teaching the Rule of Law, his book is used in a nationwide course for judges, prosecutors and attorneys.
About Howell Woltz
Howell Woltz is an author, journalist and activist for judicial reform in America. He is a graduate of the University of Virginia and the Executive MBA Program at Wake Forest University. He also studied at the Glasgow Caledonian University in Scotland, earning his degree in Captive Insurance Management. He is currently studying at the University of Warsaw. For speaking engagements, he can be contacted directly. Website is http://www.justicerestored.com
Contact:
Juliette Weiland
Public Relations Consultant
704-843-0325
http://www.justicerestored.com