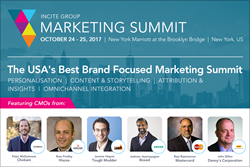 Nancy Enger-Barrera,Vice-President, Digital Technology, Citi: Like being a fly on the wall in the most noteworthy boardrooms in the world. Wonderful!
New York, USA (PRWEB) July 06, 2017
The Incite Brand Marketing Summit NYC (October 24-25th) attracts over 400 senior in-house marketing executives from the most influential brands. They gather together to discuss the latest marketing practices to cut through the noise with seamless, consistent, impactful customer interactions that truly impress the customer.
See more information at http://www.incite-group.com/events/east/
The event director, Hayley Dunn said, 'We are thrilled by the positive feedback for this year's agenda and speaker faculty. We have been busy identifying the most innovative marketers to lead the 2017 discussion, and we are certain you will not be disappointed. This year we really feel that we are giving the marketing community something they have asked for and something that does not yet exist in the same capacity.'
Although the team say that there are many more announcements to come, Incite Group is thrilled to announce the following speakers for the 2017 New York event:

Raja Rajamannar, Chief Marketing Officer, Mastercard
Peter McGuinness, Chief Marketing Officer, Chobani
John Dillon, Chief Marketing Officer, Denny's Corporation
John Boris, Chief Marketing Officer, Shutterfly
Emily Culp, Chief Marketing Officer, Keds
Russ Findlay, Chief Marketing Officer, Hiscox
Jerome Hiquet, Chief Marketing Officer, Tough Mudder
Jackson Jeyanayagam, Chief Marketing Officer, Boxed
The event has officially launched and you can find the full brochure here: incite-group.com/events/east/brochure
If companies are interested in getting involved they are encouraged to contact Hayley Dunn on the details below.
About Incite Group
Incite Group is part of FC Business Intelligence Ltd, a __title__ incite-group.com/events/east/brochure ] registered company in England and Wales - Registered number 0438897. 7-9 Fashion Street, London, E1 6PX, UK. The company specializes in providing business intelligence to business leaders across marketing, mobile, social media and customer service. incite-group.com/events/east
Contacts
Media and Press Contact:
Zsofia Kulcsar
Marketing Director
Zsofia(at)incite-group(dot)com
Event Contact
Hayley Dunn
(USA Toll Free) 1 800 814 3459 ext 7236
hayley(at)incite-group(dot)com