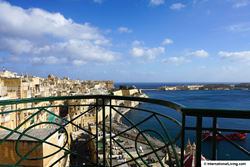 In fact, a high-quality retirement in Europe can cost less than it would in North America. Look in the right places, and properties to rent can be found for less than $600 a month or to buy for under $110,000.
Baltimore, MD (PRWEB) June 22, 2017
A retirement in Europe is a dream for lots of folks—but many assume it's much more expensive than it actually is. In fact, a high-quality retirement in Europe can cost less than it would in North America.
Look in the right places, and properties to rent can be found for less than $600 a month or to buy for under $110,000. A filling three-course meal in a local restaurant can be had for $10, while a bag of fresh produce grown locally can cost under $6.
International Living editors and correspondents have identified the five countries where, at remarkable savings, expats can live by fabulous beaches, in idyllic rural retreats, or in cities where history is thickly layered with stunning architecture and grand museums.
For each country in the report, International Living's experts recommend an area worth particular consideration.
Number 5 - France
International Living France correspondent, Barbara Diggs, says that the country itself makes it easy to enjoy life. A land of immense geographic, climatic, and aesthetic diversity, it offers something to please everyone: snow-white Alpine ski slopes, golden beaches and bright blue skies, rows of vineyards rippling up and down hillsides, picture-perfect medieval stone villages, vibrant cities crammed with museums, galleries, and restaurants.
But there's another reason France makes life easy to enjoy. "The country treats people as if they matter," Diggs says. "France offers universal healthcare to its citizens and legal residents who qualify (it takes five years of permanent residence to become eligible). What's more, pre-existing medical conditions are irrelevant to your ability to be covered, and out-of-pocket costs are extremely low.
"Where you choose to enjoy life in France depends on your personality and finances, of course," says Diggs, who lives in Paris. "But when it's time for me to retire, I'm putting the Languedoc-Roussillon region in the south on my short list."
Warm and sunny, with stunning landscapes that range from rugged to rustic, the Languedoc is often described as the "untouched" version of Provence, its famous next-door neighbor. It offers the same kind of beaches, lavender fields, and relaxed vibe…but it's vastly more affordable.
General expenses in the Languedoc are very reasonable, according to Diggs. "I know of an expat couple from the U.S. who lived in a small, beautiful village on just over $2,000 a month," she says. "They rented large, furnished vacation homes during the off-season for $800 to $900 a month and lived simply and comfortably, mostly preparing their own meals with fresh, local products."
Monthly rent for an unfurnished place can be even lower. In the classic Languedoc town of Béziers, for example, large, sunny, unfurnished two-bedroom apartments can be found for about $600 to $650 a month.
For expats looking to buy, it's possible to find attractive two- or three-bedroom homes on the market for $175,000 or less."
Number 4 - Malta
Ask any expat on Malta why he or she relocated to that tiny Mediterranean island nation, and the same three reasons keep cropping up: sea, sunshine, and the friendly and welcoming people.
"In Malta, you'll find abundant sunshine even at the height of winter," says American expat Gigi Griffis. "Valletta, the nation's scenic capital and adorned with historic buildings, is renowned as the warmest capital in Europe—and with less than 7,000 inhabitants, a highly manageable one, at that. Even in January, you'll still find temperatures in the 60s F, rising to the 80s F during the glorious summer months."
Monthly costs in Malta are affordable. Rents in the capital start from as low as $450 a month. The islands are also English-speaking—a legacy of the British colonial era—so language certainly won't be a difficulty when adjusting to life here.
"Malta has a number of different islands, only three of which are actually inhabited. Of these, my personal favorite—and the one I'd recommend most as a retirement destination—is Gozo," Griffis reports. "If, like me, you love to be surrounded by the sea, to enjoy quiet, cliffside walks, and to wake up to the smell of wild thyme wafting through your windows, this is the place for you."
This laidback way of life does not come at the expense of convenience. Victoria, Gozo's largest town, is the place to go for shopping. There are two opera houses and expats can savor local organic produce in excellent restaurants.
All told, a couple could live well in Gozo for about $2,000 a month, including rent and healthcare.
Number 3 - Spain
Spain has long been one of the least-expensive countries in Europe. And today, with real estate prices at their lowest in decades and the euro weaker than it's been in years, International Living editor Glynna Prentice says Spain is a downright bargain, whether you're looking to live here full- or part-time.
"Along many of Spain's coasts, you can find small, one-bedroom apartments selling for under $100,000," Prentice says.
More spacious one- and two-bedrooms (800 or 900 square feet) go for $150,000 or so. Comfortable, furnished, long-term apartment rentals run as little as $550 a month. Short-term rentals (up to three months—perfect for part-timers) can start as low as $770.
"My own favorite city for full- or part-time living is Valencia," Prentice says. "For me, it combines the best of all worlds. Spain's third-largest city, it has all the goodies of a metropolis: convenient air and rail connections, major hospitals, universities, and plenty of parks. You can walk in green spaces, under leafy trees, across much of the city, and music seems always in the air."
This city abounds in culture, with science and art museums, concert halls, and one of Europe's largest historic centers. Yet it's also a beach town, right on the Mediterranean. "Best of all, it's shockingly affordable," Prentice reports. "Real estate prices in Valencia can be high, but rents for one- and two-bedroom apartments in some of Valencia's best neighborhoods still start at only about $550 a month. If you're looking to buy, sale prices start at about $110,000. If you've ever dreamed of living affordably in Europe—whether it's for a few months at a time or for the rest of your life—take a look at Spain now."
Number 2 - Italy
Many Americans regard Italy as expensive, but spend time outside "tourist Italy" and it can prove remarkably affordable.
Leaving aside hotspots like Capri and Sorrento, the farther south expats go, the more prices fall. The monthly rent for a one-bedroom apartment in Milan will start around $800 to $1,000 and in Florence it's $700 to $900, for example.
But in Lecce, a flamboyantly baroque city in the Puglia region of Italy's deep south, something the same size can go for as low as $480 a month. Thanks to the South's longer summers and milder winters, cost of living is drastically reduced, too.
Puglia is in the heel of Italy's "boot," a place of dazzling sunshine, sophisticated towns, and friendly people with a touch of natural theatrics in their veins. It's also rather overlooked, which means you can live well here for about $1,600 a month, including rent of as little as $369. The sea is part of Puglia's draw. Brightly-painted boats bob in small harbors, fishermen untangle and mend nets on quaysides, and markets glisten with everything from swordfish to sea urchins.
"Puglia is the kind of place that invites superlatives," says Valerie Fortney-Schneider, International Living Italy correspondent. "The best food, the friendliest people, the cleanest beaches, and the most fascinating architecture are common compliments that visitors declare after encountering this sun-kissed region".
In towns like Brindisi and Lecce, $450 to $500 a month rents a decent-size apartment. Puglia is an Italy that many expats have fallen in love with and an Italy they can afford.
Number 1 - Portugal
"Ask your average European to describe England, Italy, or France and they will have an answer—even if they have never been," says International Living international executive editor Eoin Bassett. "But beyond its southern beach towns and the elegant old capital of Lisbon, Portugal will have them stumped."
Portugal is the last true bastion of Old World living in Western Europe. Decades of rule by a conservative dictator named Salazar preserved a lifestyle that's disappearing elsewhere. It's a country where an Englishman or a German can find a reflection of how life used to be back home.
"That's not to say Portugal is backward. You can get free WiFi in public places," Bassett says. English is widely spoken, and you can travel around by train for much less than you'll pay elsewhere in Europe, in comfort and with access to a dining car. Think of it as life with modern convenience and none of the hassles, stress and traffic."
Portugal is a value proposition. Expats can live well on $2,100 to $2,200 a month. That includes rent, which runs from as little as $375 a month for a centrally located apartment in a pleasant provincial city.
"My favorite such place is Évora, at the heart of the Alentejo," Bassett says. Around an hour from Lisbon, Évora is encased in 14th-century walls but unlike many of Europe's old UNESCO-protected towns, Évora is not just like a museum. It's a lively university town of mom-and-pop stores, fantastic eateries, and layers of history."
The complete International Living article on the five most affordable retirement havens in Europe can be found at: Europe's Top 5 Affordable Retirement Havens.
Editor's Note: Members of the media have permission to reproduce the article linked above once credit is given to InternationalLiving.com. To learn more, please contact InternationalLiving.com Associate Editor, Carol Barron, tel. (772) 678 – 0287, e-mail: CBarron(at)internationalliving(dot)com
Further information, as well as interviews with expert authors for radio, TV or print, is available on request. Photos are also available.
For 37 years, InternationalLiving.com has been the leading authority for anyone looking for global retirement or relocation opportunities. Through its monthly magazine and related e-letters, extensive website, podcasts, online bookstore, and events held around the world, InternationalLiving.com provides information and services to help its readers live better, travel farther, have more fun, save more money, and find better business opportunities when they expand their world beyond their own shores. InternationalLiving.com has more than 200 correspondents traveling the globe, investigating the best opportunities for travel, retirement, real estate, and investment.