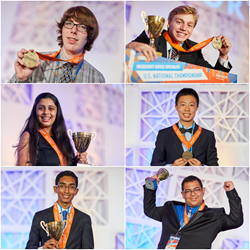 Orlando, Florida (PRWEB) June 22, 2017
The winners of the 2017 Microsoft Office Specialist U.S. National Championship have been announced by Certiport, the leading test delivery solution provider for the global workforce and academic markets.
The champions topped more than 320,000 total entrants and 124 finalists at the event in Orlando, Florida. The first-place winners will now head to Anaheim, California for the MOS World Championship from July 30 – August 2, 2017.
Students from 13 to 22 years old participated in one of six competition tracks by submitting a qualified, passing score on any of the following exams: Microsoft Office Specialist Word (2016 or 2013), Microsoft Office Specialist Excel (2016 or 2013), and Microsoft Office Specialist PowerPoint (2016 or 2013). First place winners received a $3,000 cash prize, second place $1500 and third place $750.
The MOS U.S. Champions are as follows:
MOS Word 2016

First place, Joshua Garrelts, Eisenhower High School, Kansas
Second place, Jacob Kearsley, Centennial High School, Idaho
Third place, Evan Lemker, Xavier High School, Iowa
MOS Excel 2016
First place, John Dumoulin, Forest Park High School, Virginia
Second place, Benjamin Nowotny, Hortonville High School, Wisconsin
Third place, Ryan Catalfu, Green Hope High School, North Carolina
MOS PowerPoint 2016
First place, Dheya Madhani, Green Hope High School, North Carolina
Second place, Jacob Sedesse, P.K. Yonge Development Research School, Florida
Third place, Jacob Malimban, North Forsyth High School, Georgia
MOS Word 2013
First place, Forrest Liu, Green Hope High School, North Carolina
Second place, Eric Dillon, Mingo Central High School, West Virginia
Third place, Makenna Pollard, Bridging Communities Technical Center, Virginia
MOS Excel 2013
First place, Anirudh Narayanan, Caesar Rodney High School, Delaware
Second place, Jeron Bale, Cadott High School, Wisconsin
Third place, Bryce Sawyer, Camden County High School, Georgia
MOS PowerPoint 2013
First place, Dominic Allain, Salmen High School, Louisiana
Second place, Bryceson Oglesby, Swainsboro High School, Georgia
Third place, Joseph Litz, Princess Anne High School, Virginia
"Placing first at the MOS U.S. Championship is a dream come true to me," said winner Forrest Liu. "I know the Microsoft Word certification I earned to qualify for the competition will help me in the future as I add it to my resume, as well as for writing professional letters, school essays and eventually on the job."
After besting 320,000 students who earned a passing score on an eligible MOS Exam in the qualifying round, 124 finalists were given a printed copy of a document, spreadsheet or presentation to recreate, along with printed instructions and digital assets. They were scored according to the accuracy of the re-creation. The champions in each program, along with a chaperone, have won a trip to participate in the 2017 MOS World Championship in Anaheim, California. Photos of the winners and the competition can be found here.
"Every year the MOS U.S. National Championship grows as students discover the value of MOS certification to help them prepare for college and career," said Aaron Osmond, general manager, Certiport. "Earning validation from Microsoft allows students to stand out from the crowd and prove that they have valuable, on the job skills."
Certiport anticipates more than 150 finalists from more than 50 countries at the MOS World Championship, where students will again participate in a unique competition exam in their track. Six winners will receive cash prizes, medals and the title of Microsoft Office Specialist Word, Excel or PowerPoint World Champion.
About Certiport
Certiport, a Pearson VUE business, is the leading provider of certification exam development, delivery and program management services delivered through an expansive network of over 14,000 Certiport Authorized Testing Centers worldwide. Certiport manages a sophisticated portfolio of leading certification programs including: the official Microsoft Office Specialist certification program, the Microsoft Technology Associate certification program, the Microsoft Certified Educator program, the Adobe® Certified Associate certification program, the Autodesk Certified User and Autodesk Certified Professional certification programs, the Intuit QuickBooks Certified User certification program, the Toon Boom Certified Associate certification program, the IC3 Digital Literacy certification and the Certiport Business Fundamentals certification program. Certiport reliably delivers over three million tests each year throughout the secondary, post-secondary, workforce, and corporate technology markets in 148 countries and 26 languages worldwide. For more information, please visit http://www.certiport.com or follow Certiport on Twitter at http://www.twitter.com/certiport.
"Certiport" and "IC3" are registered trademarks of NCS Pearson, Inc. in the United States and other countries. The names of actual companies and products mentioned herein may be the trademarks of their respective owners.