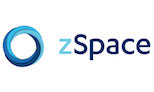 The new GTA Virtual Automotive Training applications take the 'auto shop' class of years ago to a whole new level.
SAN ANTONIO (PRWEB) June 26, 2017
According to the Bureau of Labor Statistics Occupational Outlook Handbook, many of the fastest-growing jobs through 2022 will be in career and technology education (CTE) fields. To help ensure that schools can leverage the power of mixed reality to prepare students for jobs in these growing fields, Silicon Valley-based mixed reality education provider, zSpace, today announced new additions to CTE applications on its platform, with automotive training courses from Shenzhen
GTA Education Tech Ltd., a leader in smart education solutions in China.
Unveiled today at ISTE 2017 in San Antonio, the new GTA Virtual Automotive Training uses zSpace's mixed reality environment to give students hands-on experience with all of the essentials of auto mechanics as they explore and repair engines, the clutch, transmissions, the powertrain system, wheels and axles, suspensions, and steering and brake systems. They'll be able to look at these complex mechanical systems from all angles, learning how they work and practice making repairs in mixed reality.
Compared to traditional automotive training education, the GTA Automotive VR Training System displays automobile structure vividly from multiple angles, and stimulates students' sense organs by using their eyes, ears, and hands in virtual training. Mixed reality training avoids potential risks present in traditional training, involves no material consumption and or the space required for actual automobiles, and allows for repetitive training.
"The new GTA Virtual Automotive Training applications take the 'auto shop' class of years ago to a whole new level. Traditional textbooks and courseware are two-dimensional and hands-on training with actual cars is irreversible and expensive," said Paul Kellenberger, zSpace president and CEO. "With these applications, students practice repairs and techniques repeatedly, building strong skills, and schools save money and space, and better prepare students for the work force."
GTA Virtual Automotive Training and all of zSpace's mixed reality applications for learning will be featured on the company's Virtual Reality Tour Bus, Booth #3519, at ISTE 2017, June 26-28, in San Antonio.
About Shenzhen GTA Education Tech Ltd.
Established in 2000, Shenzhen GTA Education Tech Ltd. is a leading giant in "smart education"services, high-end financial information services and professional data services. It offers integrated solutions of smart education to educational institutions, ranging from those focused on early childhood education to college and university as well as vocational education. Such solutions incorporate top-down design, educational informatization, teaching and training simulation software, modern educational equipment, educational resources and value-added services. In addition, GTA also provides vocational skills training for the public on O2O education platforms (MOOC and more), as well as integrated solutions for data application, financial research and trading to financial and investment institutions. For more information, visit http://www.gtafe.com.
About zSpace
zSpace delivers the ultimate learning experience to inspire curiosity and accelerate understanding. Our product, zSpace®, combines elements of VR and AR, on an all-in-one computer, to create lifelike experiences that are immersive and interactive. Among its numerous awards and accolades, zSpace was named "Cool Vendor" by Gartner, Inc., "Best in Show at ISTE" by Tech & Learning Magazine for three consecutive years and was ranked #143 on the 2016 Inc. 500 list. zSpace is a privately held, venture backed company located in Sunnyvale, California, and has been granted more than 25 patents for its innovative technologies. For more information, visit http://www.zspace.com, or follow on Twitter @zSpace.