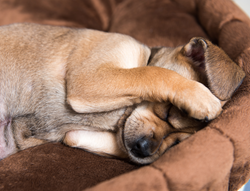 If your dog is bothered by loud noises...take precautions to keep him at home and feeling safe.
Wilton, CT (PRWEB) June 24, 2017
To most Americans, there's nothing quite like the thrill of fireworks booming and soaring overhead. But to a dog afraid of loud noises, the upcoming holiday week – with its fireworks, firecrackers and other loud noises -- is terrifying.
Some hide, but many run away, trying to escape the sounds. In fact, there are more lost dog incidents in early July than at any other time of the year.
"If your dog is bothered by loud noises – whether it's fireworks or thunderstorms – it's important to take precautions to keep him at home and feeling safe during this period of celebration," says Renee Coughlin of Canine Company. She offers these dos and don'ts for dealing with an anxious dog during this noisy season.

Don't take a fearful dog with you to the community fireworks display or a backyard celebration that includes fireworks. Even if a dog hasn't been troubled by loud noises in the past, this could be the time he runs off to escape the scary sounds.
Set up a safe place for noisy times, likes fireworks and thunderstorms, in a quiet room – ideally one without windows. A pet bed and favorite toy will help her associate the area with comfort. When the fireworks begin, turn on a fan, TV or radio to help block out disturbing noises.
Distract him with a favorite game or by practicing obedience training. Concentrating on obeying commands may help keep his mind off the background noise – even as the sounds get increasingly louder.
Never punish a pet for being afraid. That will only make her more anxious. And, although it's tempting, don't comfort her either. Cuddling and consoling will actually reinforce the fearful behavior. In her mind, she's being rewarded with attention and love.
"If your dog's anxiety is severe, don't leave him alone during fireworks, because he might injure himself trying to escape. If you can't be there, find someone to stay with him. Human attention is the best distraction," says Coughlin.
It is possible to de-sensitize a pet to loud sounds, she adds, but it takes time, patience and the help of a professional trainer.
About Canine Company
Born of a family's love for dogs, Canine Company provides at-home services to keep pets healthy, safe and happy. The company serves families across New England, New York and New Jersey with the Invisible Fence® brand systems, Manners dog obedience training, and mobile grooming and pet sitting in select markets. Its charitable Canine Gives campaign supports pet rescue groups and donates pet oxygen masks to first responders. For information, visit CanineCompany.com or call 800-818-3647.