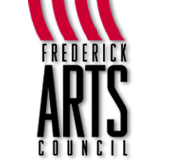 Frederick, Maryland (PRWEB) June 26, 2017
On June 15th, the Frederick Arts Council's innovative combined public art project and outdoor amphitheater Sky Stage was honored as one of the best public art projects in the nation at Americans for the Arts' Public Art Network conference in San Francisco.
The Public Art Network Year in Review award employs a jury selection process to annually recognize outstanding public art projects that represent the most compelling works created in the nation during the prior year. Hundreds of project applications are reviewed and up to 50 are selected to highlight trends and accomplishments for the field. Selection criteria included creativity, concept, innovation, responsiveness and success See listing here: http://www.americansforthearts.org/by-program/networks-and-councils/public-art-network/public-art-year-in-review-database/sky-stage.
The survey of outstanding projects reflects a broad range of artistic responses and approaches to the challenge of creating art in the public realm. Year in Review selections are among the nation's most innovative and imaginative art projects that fulfill their public goals and are inspiring to their intended audience, which includes artists, commissioning agencies and their communities. Selections are to demonstrate ways artists can engage site, community, and social spaces.
"We are overjoyed at this very tangible confirmation that Sky Stage is truly magical and stands among the most effective and engaging public artworks in our entire national community," said Louise Kennelly, Executive Director of the Frederick Arts Council. "We thank our local community in Frederick City and County for their investment and support, and we look forward to collaborating with our friends and neighbors on future projects which will continue to cement Frederick's place nationally as a creative exemplar. We hope to provide more platforms for talented artists such as Sky Stage creator Heather Clark."
Sky Stage, designed by artist Heather Clark, is open for its Spring/Summer 2017 season with a variety of arts and holistic programming. It recently earned a Community Leadership Award from Frederick's Historic Preservation Commission, and afeature in The Washington Post's Going Out Guide for its innovative imagining of a community gathering space. Visit skystagefrederick.com to look at the calendar and to find out more.
About the Frederick Arts Council
The Frederick Arts Council invests in a vibrant and cohesive arts community for the people of Frederick County. The organization fosters an environment where the arts flourish in the community through grants and scholarships, arts advocacy, and links to essential resources. FAC is responsible for large-scale programming such as the Frederick Festival of the Arts, Art in the Park, and Frederick County's Arts in Education grants.For more information about the Frederick Arts Council, visit http://www.frederickartscouncil.org.
About Americans for the Arts
Americans for the Arts serves, advances, and leads the network of organizations and individuals who cultivate, promote, sustain, and support the arts in America. Founded in 1960, Americans for the Arts is the nation's leading nonprofit organization for advancing the arts and arts education. Find out more at http://www.americansforthearts.org/.
National Recognition to the Best in Public Art Projects Annually, Americans for the Art
The Americans for the Arts Public Art Network (PAN) Year in Review annually recognizes outstanding public art projects that represent the most compelling work for the year from across the country. Two or more public art professionals serve as jurors to review hundreds of project applications and select up to 50 projects to include. The PAN Year in Review is the only national program that specifically recognizes public art projects and is an excellent advocacy and educational tool for those who are impacting their community through public art. Recognized projects are available in the Online Database and information about past presentations can be found on the Annual Presentations page.
http://www.americansforthearts.org/by-program/networks-and-councils/public-art-network/public-art-year-in-review-database/sky-stage