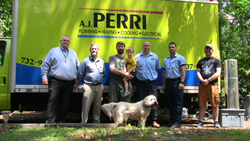 Tinton Falls, NJ (PRWEB) June 22, 2017
A.J. Perri, a New Jersey-based provider of air conditioning, heating and plumbing services, gave back to a military family in need of help with their home comfort by donating and installing an air conditioning unit free of charge. Brandi Robertson is currently an active duty Air Force member and her husband, Jamie, is a disabled Air Force veteran.
Brandi grew up in a military family. She met Jamie in basic training, and they have since moved all over the country for their Air Force duties. The Robertsons ended up in New Jersey and have found a home there. Jamie was deployed at least once a year before getting his veteran status while Brandi was working full time in the military as a sonographer and raising their baby.
Keeping up with home maintenance was difficult for the Robertsons given their busy schedule. The Robertsons' air conditioning unit was over 16 years old and recently stopped working. AJ Perri heard about the Robertsons' needs through Backpacks for Life, an organization that seeks to provide homeless veterans with assistance in employment searches and even providing veterans with a backpack filled with daily essentials.
"The team at AJ Perri appreciates the service and sacrifices active and retired military like the Robertsons make," says Jim Henkel, General Manager of AJ Perri. "So we wanted to help them beat the heat with a new air conditioning unit, free of charge. It is a privilege to be able to serve those who have selflessly served our country."
"The assistance we receive when we are away from our families is highly appreciated, so we're very grateful for AJ Perri," says Jamie. "Civilians accepting us and supporting us in the community is hugely important. That is how we can take care of our country with less stress in our home," adds Brandi.
Brandi and Jamie's family is one of many intended recipients for the AJ Perri Cares initiative, which aims at donating an HVAC system to a veteran in need. AJ Perri will be working in their service area to complete these projects in giving back to their community. They will be announcing a formal nomination process by August. In addition to giving away HVAC equipment and installation, AJ Perri employees will be engaging in volunteer and civic opportunities geared towards veterans' services.
"The AJ Perri Cares Initiative is consistent with our commitment to the community we serve. We see this as a different opportunity to give back, and we're excited to help more families in need," concludes Jim Henkel.
ABOUT AJ PERRI: Since 1971 A.J. Perri has been serving New Jersey homeowners with years of experience and a national reputation for superior technical skills in heating, air conditioning, plumbing and indoor air quality systems. They service those in Bergen, Burlington, Essex, Hudson, Hunterdon, Mercer, Middlesex, Monmouth, Morris, Ocean, Passaic, Somerset, Sussex and Union counties.