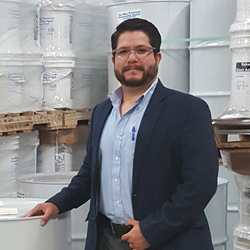 "We look forward to the innovative solutions Mario will be able to bring to our industrial food processing partners" says Gary Everson, Chief Sales & Marketing Officer, Par-Way Tryson.
St. Clair, MO (PRWEB) June 26, 2017
Par-Way Tryson, is pleased to announce Mario Murillo has joined their Industrial Division as Sales Manager.
With 18 years of overall sales experience and ten years in the food processing industry Mario brings a wealth of knowledge and understanding of industrial food manufacturers needs to his position. Formerly a regional sales manager with the Spray Dynamics division of Heat and Control he understands the mechanics of food processing and how Par-Way Tryson's industrial spray release and pan oils can improve the yield and efficiency of any operation.
In addition to meeting efficiency standards Mario knows the industry continues to demand clean label formulations. He is pleased to be able to meet those needs with GMO-free, allergen-free and PHO-free products plus the recent launch of Par-Way Tryson's Vegalene® Organic Release Aid. "Par-Way Tryson's industry leading foodservice business and innovative history perfectly positions them to meet the clean label demands of our industrial customers, they understand consumer demands," says Murillo.
Mario credits his family for instilling in him the value of hard work, customer service and the art of fair sales and negotiations. These principles have taught him to listen to customers' challenges and how to partner with them to find solutions for their unique needs. Along with the robust and professional Research & Development department at Par-Way Tryson Mario is eager to solve the specific sticking challenges any industrial food processor might face. He also looks forward to working with the entire Par-Way Tryson team to continue to develop new and innovative products for a variety of food processing industries such as snack, bakery, confectionary, processed meats, prepared food and pet food.
"We are excited to have someone with Mario's skills and unique knowledge of our industrial customer's day-to-day operations join the Par-Way Tryson family. We look forward to the innovative solutions he will be able to bring to our industrial food processing partners" says Gary Everson, Chief Sales & Marketing Officer.
To talk with Mario and learn more about Par-Way Tryson's industrial food processing products visit parwaytryson.com/industrial or call 800-642-0088 x182.
###
About Par-Way Tryson
Par-Way Tryson, located in St. Clair, MO, has been a leading provider and innovator of premium-quality food release products to foodservice and industrial food manufacturing businesses, since 1948. Its Vegalene® brand is one of the nation's top commercially-used food release sprays. Par-Way is a member of the PLZ Aeroscience family, a leading aerosol packager with locations throughout the U.S. and Canada, strategically positioning them for the future. Par-Way Tryson is known for delivering exceptional quality, performance and value. For more information call 800-642-0088 or visit parwaytryson.com.