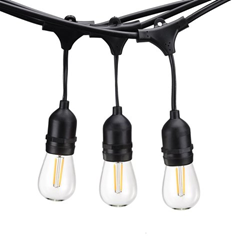 LED string lights cost about the same as incandescent lights, but without any of the downsides!
Los Angeles, CA (PRWEB) June 23, 2017
AQLighting has announced their latest line of commercial ready outdoor LED string lights. Being UL approved, it has gone through extensive testing to ensure product safety and reliability. It comes with beautifully clear 1.5 watt filament bulbs which are dimmable, yet offers plenty of light output. The fixture itself is rated IP65 for dust and particle resistance, making it nearly waterproof and perfect for outdoor use.
"Our watertight sockets will let you plug multiple strings together without fear of water getting in or coming apart accidentally. If you are looking for a cost effective outdoor lighting solution then this is it," said Tom Piana, CEO of AQLighting. "Not to mention these LED string lights cost about the same as incandescent lights, but without any of the downsides!"
Plug and Play
These vintage style decorative light strings are designed for consumers who want a durable, energy efficient and easy to install outdoor lighting solution that won't break the bank. It also comes in 2ft or 3ft spacing between each bulb which allows for a more flexible lighting solution.
String lights are also perfect for parties, events and other special occasions! If you are an event planner or party organizer, you don't want to miss out on these filament style LED string lights.
Advantages of LED
LED lights are also more efficient, longer lasting and run dramatically cooler compared to incandescent bulbs. LED bulbs also shine brighter and are ideal for lighting up large areas while at the same time keeping energy bills down.
Pricing and Availability
These edison style LED light strings are available now at AQLighting and Amazon. Pricing starts at $69.95.
About Us: AQLighting distributes and manufactures a variety of lighting fixtures for residential and commercial consumers. Keeping consumers in mind, the company strives to bring high quality yet affordable lighting fixtures that are easy to install for DIY enthusiasts and licensed electricians alike.