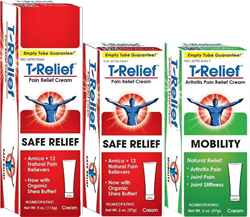 "MediNatura's mission is to improve lives with serious medicines from nature."
Philadelphia, PA (PRWEB) June 27, 2017
This Leading Natural Pain Relief Product Is Now More Organic
There is no need to use synthetic chemicals on your body when you have natural and organic alternatives. This is one of MediNatura's driving philosophies and why the homeopathic pharmaceutical company recently added even more organic content to its T-Relief™ Pain Relief Cream.
The new T-Relief™ Pain Relief Cream is still made of thirteen natural pain-relievers, but it now also includes organic shea butter in addition to three other organic oils. This increases its organic content, so 87% of the base cream that delivers T-Relief™'s medicines are made up of organic ingredients and purified water.
"So many topical pain relievers' inactive ingredients are unpronounceable gobbledygook," said Cathy Raish, MediNatura's VP of Innovation. "By delivering T-Relief™'s thirteen potent natural medicines in a base that is more organic, MediNatura delivers on its belief that serious pain relief doesn't need to come with side effects that are irritating or dangerous."
T-Relief™ Pain Relief Cream relieves a broad spectrum of pains in joints, back, muscles, and nerves. T-Relief™ Arthritis Pain Relief Cream provides temporary relief specifically for arthritis pain, joint pain, and joint stiffness. Because there are no known interactions with other medicines, it is safe to use T-Relief™ creams in conjunction with prescription drugs.
Many pain relievers warn against use for more than ten consecutive days. T-Relief™, however, has no need for such a warning, so when your pain lasts longer than ten days, this natural and more organic pain relief cream can be a lifesaver.
Also, T-Relief™ creams come with an Empty Tube Guarantee*. Consumers can use the entire tube and still get a full refund if they're not satisfied.
About MediNatura Inc.
MediNatura Inc., a Delaware Corporation headquartered in greater Philadelphia, specializes in prescription and over-the-counter pharmaceuticals made from natural medicines. You can reach MediNatura toll-free at 1-844-633-4628 Monday through Friday from 8am – 5pm MST or visit http://www.MediNatura.com
Follow MediNatura on social media at:
https://www.facebook.com/medinaturaInc
https://twitter.com/medinaturaInc
These statements have not been reviewed by the Food and drug administration. They are supported by traditional homeopathic principles.
*Consumers can use any T-Relief™ product – even the whole tube - and if they're not satisfied, they can return it and a receipt to MediNatura in at P.O. Box 407 MPS Dept. No. 786 Cinnaminson, NJ 08077 for a full refund. Visit http://www.MediNatura.com for full details.