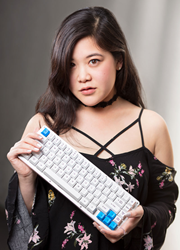 San Jose, CA (PRWEB) June 23, 2017
After an extensive, two year journey, the WhiteFox Mechanical Keyboard has been finally funded on Kickstarter, less than 36 hours after launch! This version is fully assembled and working out of the box, the WhiteFox is a compact, aluminum frame mechanical keyboard with custom designed switches. The product design was developed by Matteo Spinelli and Input Club, and the product release was heavily supported by the Mech Keys community at Massdrop. The WhiteFox is making the shift to a finished, final product by getting funding from the good people on Kickstarter, a vibrant online community filled with individuals who are delighted by quality products.
Inside the WhiteFox are several features not found in keyboards in the general market. The keycaps are a special engineering plastic that reduces finger oils and "shine", and the legends are the same method used on the IBM Model M keyboard, many of which have been in continuous use since the 1980's. Input Club invented a new switch type named Halo, a unique force-curve that is easy and smooth at the start, becoming much firmer when pressed too hard in order to prevent over-typing. The Halo comes in two varieties, True - the ideal switch weight of the designer, and Clear - a firmer weight making it closer to the Cherry MX Clear switch loved by the online community.
This keyboard is open source and hardware programmable, allowing you to reconfigure the keys to whatever feels right to you. Some people strongly dislike Caps Lock, or type in a layout other than QWERTY, so we unlocked the layout to give you complete control over your device. The designs for the circuitry and frame of the WhiteFox are available on Github in an effort to motivate the marketplace to improve and adapt their products to include better features.
The WhiteFox Mechanical Keyboard is a new class of keyboard. It pushes the limits of what a keyboard is capable of with advanced programming options, and it makes use of high-tier materials to deliver a better typing experience. Now available on Kickstarter, and following the conclusion of that campaign, at our newly available e-commerce site - https://kono.store
For questions, inquiries, or comments, please contact info(at)input(dot)club.