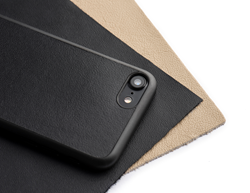 There really hasn't been anyone out there making super thin leather cases and we wanted to fill that gap in the market.
South Pasadena, California (PRWEB) June 26, 2017
For consumers who hate the bulkiness that often comes with today's protective cases for smartphones, they are in luck. Totallee, a leader in ultra-thin cases at affordable prices, has released its latest iPhone case that is only an incredible 0.02" thin. The product is made of genuine leather and adheres to the company's minimalistic design aesthetic.
"We are very excited to offer this product for sale to our consumers. This is our most premium case to date, and you won't find a thinner leather case anywhere else," stated Matt Hug, the founder of Totallee. "We stand behind its quality 100%. Our leather case offers zero bulk yet lots of protection for your iPhone. It also adds luxury to your everyday device."
According to Hug, developing an iPhone case that is ultra-thin and made of leather turned out to be much trickier than his company had originally thought. After all, leather isn't exactly a cheap material to buy. It is also very soft, which created concern over whether the case could hold its shape without being too bulky. After trial and error, the company eventually overcame those challenges.
"After a lot of testing we are excited to have come up with a leather case that reflects what Totallee as a brand stands for: a quality, minimalistic product at an affordable price," stated Hug. "Unlike other companies who slap a logo on everything they do we keep our products simple and branding free."
Ever since the company established itself as a premium brand for minimalistic and affordable iPhone cases several years ago, it seemed only natural that the company would continue to up its game with one-of-a-kind products that carefully represent the brand. So far, the sleek, leather design has been well received by the public.
"There really hasn't been anyone out there making super thin leather cases and we wanted to fill that gap in the market. Its release further establishes our brand at the intersection of luxury and affordability. stated Hug. "The response from the public has been great. The feedback that we've received is that they love our thin leather case and are already asking for more color options."
The company's new ultra-thin, leather case will be available for purchase on June 26, 2017. While many iPhone accessory makers charge people upwards of $40 for a simple case, Totallee cuts out the middleman and sells directly to consumers at half the price. Affordability remains at the heart of their business. Their smartphone products are also backed by a 2-year warranty and orders ship within one business day. Free shipping is also available for orders over $30. To learn more about the company and its products, click here.
ABOUT TOTALLEE: Totallee offers an alternative to poorly designed, bulky and overpriced iPhone cases sold by companies with poor customer service. Based in South Pasadena, California, the company's products are designed to be sleek, elegant and enhance the experience owners have with their iPhone without being too expensive. "We are a small business that cares about the products we create and the people we sell them to," according to the company's founder, Matt Hug.