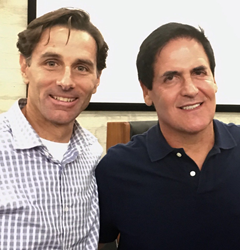 taking advantage of solar tax credits and solar project net operating losses reducing the tax obligations of businesses is good for business and the environment
San Francisco CA (PRWEB) June 27, 2017
On Monday, June 26th, 2017, Corporate Governance Initiative Executive Director Paul Pelosi Jr announced the official endorsement of the tax equity process by the Solar Equity Group in Scottsdale Arizona. Director Pelosi stated "This process is not only an innovative way to reduce the tax liabilities of companies by taking advantage of solar tax credits and solar project net operating losses reducing the tax obligations of businesses with over $250K in taxes by up to 10%, but it also provides the funding of much needed solar projects across the country."
Director Pelosi went on to say "In regards to using NOL's, I have to quote my friend Mark Cuban who said in October of last year on the HBO show Real Time with Bill Maher, "I've taken net operating losses forward, I've used that opportunity, but let me tell you where I did it, I made an investment in companies that just didn't work out, and if you get rid of being able to carry forward a net operating loss, you're going to see people that would have taken chances like I have, might not take those risks in the future."" Mr. Pelosi continued by stating "Tax professionals that represent these businesses will not only enjoy the tax reduction for their clients, but they will also be comforted with the transparency that the Solar Equity Group provides while engaging them in the process."
Justin Kaiser, Co-founder and CEO of Solar Equity Group headquartered in Scottsdale, AZ said "Solar Equity Group's mission is to "Accelerate the planet's transition to clean energy through practical economics, education, and community."
When asked about the company's origin Mr. Kaiser said "I have been aware of the solar tax equity industry since 2010 when it was introduced to me, I watched as solar companies struggled throughout the years while attempting to liquidate tax benefits they received for completed projects in order to expand and fund additional projects. It wasn't however until March of 2016 when I truly began to realize just how lucrative and valuable the solar tax equity industry could be.
In 2009, The American Recovery and Reinvestment Act paved the way for renewable energy companies to gain access to valuable tax benefits including tax credits and net operating losses through accelerated depreciation. What started off as simply a method of helping one small solar company liquidate their tax equity and fund new solar projects, quickly caught on like wildfire and evolved into a movement with a clear mission to solve a major problem that virtually no one is talking about."
Mr. Kaiser stated "Solar Equity Group is on track to transfer more than $3 billion in solar tax equity by the end of 2017, saving American businesses and qualifying individuals around $100 million in taxes. "This is one of those extremely rare cases of a financial transaction where everyone wins here. The taxpayer wins by saving a net of 10% on tax payments. The tax firm wins by having an "ace up their sleeve" for clients and being able to save them the maximum amount of money. Congress wins as we are helping advance their commitment to the American public of having 20% of America generated by clean energy by the year 2030 and America wins because we are making America's power grid more dependable all while are reducing our carbon footprint."
When asked about Solar Equity Group's growth potential Mr. Kaiser stated "Oregon and Washington are leading the US with almost half of each state being powered by renewable energy. Still, the rest of the country is way behind other countries with less than 15% powered by clean energy. This allows for massive expansion of solar projects here in the United States."
Solar Equity Group Sr. Tax Advisor James Harnsberger, EA, who is also an Enrolled Agent in California, was quoted as saying, "This is truly a program that creates the desired outcome of Congress and provides an opportunity for almost every American taxpayer to do something in advancing the solar initiative and moving our nation to a green energy based 21st-century country. Additionally, with the impact of these dollars expended on solar projects this will have a multiplier of 10 to 13 x for every dollar invested in solar projects through this program, and its impact on new jobs, equipment and support industries related to the solar sector".
"I'm excited about the future and having the opportunity to work with The Corporate Governance Initiative in furthering our mission, Mr. Kaiser said "Our latest program allows SEG to work directly with thousands of tax professionals across the country, Solar Equity Group is launching the nation's first solar tax equity certified directory. This network of tax professionals consists of Tax firms who will receive a special training on SEG's process so they can provide the service to clients. In return, SEG reimburses them for their billable time to work up the process, adding billable revenue to their firm."
In regards to the new programs launch Mr. Kaiser commented "We're just 2 months into the program and SEG has already attracted the attention of more than 500 tax professionals and plans on training more than 5,000 tax professionals across the nation by the end of the year."
The Corporate Governance Initiative is now working to expand SEG's opportunities with an introduction to the World Sports Alliance Intergovernmental Organization (WSA-IGO), an international body consisting of 33 Member States from around the world. Director Pelosi said "We quickly realized there was a strong overlap between SEG's mission to expand solar projects across the country and the WSA-IGO mission to support the United Nations' Sustainable Development Goals (SDGs), and after several elucidating conversations with President Alain Lemieux, Executive Director Ralph Faraggi and Treasurer Asa St. Clair, I was very confident of the synergistic possibilities."
WSA-IGO Sr. Director of Global Communications Royal R.L. Patrick PhD stated "We are pleased to again be working with Director Pelosi and the Corporate Governance Initiative. Understanding that Mr. Kaiser and the Solar Equity Group have adopted the United Nations Sustainable Development Goals (UNSDG), also known internationally as the Global Goals and exists in furtherance of these principles, we welcome them and are prepared to assist in any way possible to promote this program.
The UNSDG was signed by every country on the planet, including the United States and was put in force on January 1, 2016 with the idea that the UNSDG applies to all. The UNSDG have been adopted by the majority of publicly traded companies with an international footprint. Affordable Clean Energy is number 7 of the 17 principles of the UNSDG, yet the United States remains far behind many other OECD nations in terms of clean energy proliferation, with less than a 2% penetration rate of solar energy use as of the end of 2016. In order for the world to reach its commitment, the United States as one of the world's largest consumers of energy, must bring many more Solar Projects online. The United States tax laws include Energy Tax Credits and Accelerated Depreciation for Solar Equipment, as described by both Mr. Kaiser and Mr. Harnsberger. The WSA-IGO believes this program is not just an opportunity, but a necessary component toward a sustainable business model that will allow the United States to reach its goals and commitments under the UNSDG by the year 2030 and we are looking forward to working with both the CGI and SEG to help accomplish this mission."
About Us
The Corporate Governance Initiative is committed to assisting organizations to adhere to a system of guidelines, practices, and procedures by which a company is directed and controlled. The Corporate Governance Initiative also helps companies create policies to find a balance between the interests of a company's many stakeholders, such as shareholders, management, patrons, providers, investors, government and the public to maximize network expansion and overall profitability.