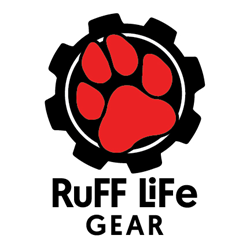 "Innovating FUNctional products for dogs and dog lovers"
Long Beach, CA (PRWEB) June 23, 2017
Ruff Life Gear, formerly known as Surf's Up Dog, today debuted a comprehensive rebranding aimed at supporting its fast-growing line of products for dogs and dog lovers. The company is well known for its product lines of high quality and fun dog collars and convenient "no tangle" coil leashes.
"We simply outgrew the limited market segment and audience suggested by our former name," said Ruff Life Gear Owners Heather Barton and Lori Powell. "We've enjoyed substantial growth and connected with thousands of new customers over the past 11 years, it was time we found a new name that better reflected our maturing identity and products."
"Ruff Life is a lifestyle, a community, a philosophy. Our company promotes an active lifestyle for people and their pets," said Heather Barton. "We are very excited and confident our new identity will connect with customers, employees, and business partners."
Ruff Life Gear is known for its handy "junior" and "jumbo" size tangle-free coil leashes in a variety of colors, and adorable neoprene-lined nylon collars that are ergonomically curved for superior comfort. The company's products were initially a local favorite and when word of the fun designs and high-quality performance traveled, opportunities opened for distribution nationwide and internationally.
The objectives of the rebrand are more than simply cosmetic. Originally focused on the Southern California beach market, the company's products can now be found domestically and internationally. Ruff Life Gear expands the identity of the company beyond the beach, while maintaining a sense of fun and playfulness that has always epitomized the company and its products.
The company's new purpose statement, "Innovating FUNctional products for dogs and dog lovers" is another way to celebrate the brand's whimsical spirit. "We're looking forward to 2017 as another exciting year for us," said Lori Powell. "The debut of Ruff Life Gear will include several new products, designed and manufactured to the same high standards that have thrilled our customers for a decade."
Ruff Life Gear will announce its new products for 2017 at the end of Q1. The company's current catalog can be viewed at the new website http://www.rufflifegear.com
About Ruff Life Gear
Ruff Life Gear (previously Surf's Up Dog) has designed and distributed high quality dog products since 2006. The company is based in Southern California and its products can be found on the Ruff Life Gear website, as well as at pet care retailers throughout the United States and select international locations.
Ruff Life Gear's purpose is to provide dogs and dog lovers with unique, durable, and FUNctional products. Co-owners Heather Barton and Lori Powell also own a large pet care company in Southern California and have enjoyed working closely with dogs and their owners for most of two decades.