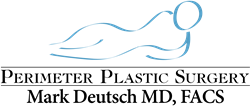 As wonderful as it is to receive this award and to attend the 'Top Doctors' reception, truly the biggest rewards come from caring for my patients—to help breast cancer patients get through the challenges they are facing
Atlanta, GA (PRWEB) June 27, 2017
Mark Deutsch, MD, founder of Perimeter Plastic Surgery and double board certified Atlanta plastic surgeon, was among those honored at Atlanta Magazine's annual "Top Doctors" reception, held June 22 at the Grand Overlook at the Atlanta History Center.
The reception took place just two months after Castle Connolly Medical Ltd., named Dr. Deutsch as a 2017 "Top Doctor," and just days before Atlanta Magazine's 2017 "Top Doctors" issue hits the newsstands, with Dr. Deutsch listed as one of the featured physicians.
Castle Connolly selects the nation's "Top Doctors" every year through a peer nomination survey process. Each year, thousands of doctors cast tens of thousands of nominations. Once the specialists are nominated, a physician-led research team extensively reviews the nominees' credentials, including their medical education, training, hospital appointments, board certifications and other achievements. Physicians who are selected as a "Top Doctor" are featured in regional magazines such as Atlanta Magazine, as well as Castle Connolly's "Top Doctors" guides.
Dr. Deutsch has over 20 years of experience in the plastic surgery field and is double board-certified by the American Board of Plastic Surgery. In addition to specializing in cosmetic surgeries such as breast augmentation, abdominoplasty, face and neck lifts, and liposuction, Dr. Deutsch regularly performs breast reconstruction for breast cancer patients.
"I am extremely honored to have been named a 2017 'Top Doctor in Atlanta' by the Castle Connolly Research Organization," states Dr. Deutsch. "But as wonderful as it is to receive this award and to attend the 'Top Doctors' reception, truly the biggest rewards come from caring for my patients—to help breast cancer patients get through the challenges they are facing, as well as to provide women and men with the cosmetic results they have always dreamed of."
For more information about Perimeter Plastic Surgery or to schedule a consultation with Dr. Deutsch, please call 404-255-0886, or fill out the online contact form at http://www.perimeterplasticsurgery.com.
About Perimeter Plastic Surgery:
Dr. Mark Deutsch is the founder of Perimeter Plastic Surgery and a top plastic surgeon in Atlanta. He is board certified by the American Board of Plastic Surgery, and performs a variety of cosmetic and reconstructive surgeries. In addition to his work in the United States, he travels annually to South America to perform volunteer procedures. For more information about Dr. Deutsch and Perimeter Plastic Surgery, please visit perimeterplasticsurgery.com.