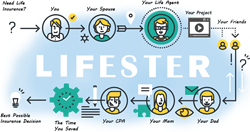 Project-based life insurance recommendations can be shared with key decision-makers, open for feedback, updated on-the-fly, and actionable on a moment's notice.
New Canaan, CT (PRWEB) June 26, 2017
Lifester, an easy-to-use life insurance decision-making platform bringing together life insurance advisors and interested consumers, announced today that it will officially launch its online service on July 12th. Lifester is betting that the industry is ready to use the Internet in a powerful new way -- not to shop for life insurance, but to dramatically improve the availability and flow of information between interested parties, empowering consumers to make more informed buying decisions.
Producer Members subscribe to Lifester and present recommendations to consumers in the form of "Projects." Projects are scrollable web pages that contain videos, text explanations, tables, charts, and other uploaded files. Consumers can share their Projects with family members, close friends and personal advisors for critical feedback that can help them make decisions or lead to Project updates.
Lifester will be free to Consumers who are in the market for life insurance and need assistance from a licensed professional, and available to life insurance advisors for a small monthly fee. "Lifester makes the experience of looking for the right life insurance policy less intimidating," says Jason Denker, Co-Founder and Chief Sales Officer. "The process is completely transparent, and feedback from interested parties can be conveniently gathered without having to physically meet. Lifester is like a virtual conference room that never closes."
Lifester is re-imagining the way consumers and life insurance professionals work together. Built by advisors for advisors, Lifester also addresses the traditional pain points of the life insurance sales process. Instead of multiple sales meetings and lengthy reports, Lifester Projects are completely digital, so they make it easier for life insurance producers to communicate complex product and strategy ideas to multiple interested parties.
Lifester does not sell life insurance or participate in any resulting life insurance sales. For more information about Lifester, visit https://www.lifester.com.