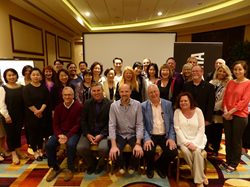 "Aside from the industry-leading Yamaha Music School model, one of the ways Yamaha brings value to our business partners is through this program," said Garth Gilman, corporate vice president, Yamaha Corporation of America.
LAS VEGAS (PRWEB) June 23, 2017
More than 20 representatives from 18 Yamaha Music Schools across the country recently attended the Yamaha Music School Advantage program designed to assist educators in tuning up their performance.
Held in Las Vegas on June 15, the free workshop was sponsored by Yamaha as part of the company's Dealer Development Services, which is celebrating its 20-year milestone this year. It was led by Alan Friedman, CPA and partner with Friedman, Kannenberg & Company, P.C., and Tom Hemphill, marketing manager, Yamaha Music Education, who used case studies and role playing to give music school teachers hands-on experience navigating challenges facing their schools today.
Music School Advantage assists these institutions in recognizing and responding to a changing marketplace. The workshop serves as an essential tool for Yamaha Music Schools to develop relationships and trust with their local communities on a personal level. In addition, the program helps develop and sharpen skills in finances, sales, marketing, operation and employee training.
"Yamaha Music School Advantage was met with an overwhelmingly positive reaction, along with a significant increase in attendance this year," said Garth Gilman, corporate vice president, Yamaha Corporation of America. "Aside from the industry-leading Yamaha Music School model, one of the ways Yamaha brings value to our business partners is through this program. Providing expert advice from nationally respected business advisors that can be immediately utilized by owners and key staff to drive operational excellence is a key draw."
All who attended praised the program. "Music School Advantage was not only insightful, but also practical," said Julia Liu of Yamaha Music Academy of Fountain Valley, California. "Everything was easy to apply and understand for music schools and owners, and I appreciated the topics, speakers and arrangements."
"It was great to talk money. If finances are not in order, everything else is in trouble," said Heidi Grimes at East Valley Yamaha Music School in Chandler, Arizona. "This experience was very enjoyable, and necessary for continuing excellence."
Eileen Tan of 7 Notes in Frisco, Texas, thanked the seminar's organizers and instructors: "Thank you for doing this. This is great for school owners, and it should be held yearly!" According to Steve Jensen at Jensen's Yamaha Music School in Castle Hills, Texas, "The seminar was very clear and helpful with potentially arcane issues." Carlton Liu of Harmony Music World, Yamaha Music Academy in Fullerton, California, referred to the experience as "very informative, with great presentation."
Music School Advantage was held in conjunction with the popular Yamaha Financial Advantage seminar, which is celebrating its 10-year anniversary this year, having trained more than 600 dealer participants in 19 training sessions. Also featured was Succession Advantage, a program that helps dealers plan sustained continuity through business operation. To expand the exposure of Music School Advantage, music dealers in attendance at the three-day event were provided with an hour-long presentation to emphasize the importance of music education.
For more information, please visit http://usa.yamaha.com
-END-
About Yamaha Music Education
The Yamaha Music Education System (YMES) has been dedicated to touching lives with the joys of making and teaching music for more than 60 years. In 1966, the Yamaha Music Foundation (YMF) was established to develop and promote music education and music popularization activities internationally, and as a result, it has guided the development of YMES in 41 countries around the world. In the United States, the Music Education Division of Yamaha Corporation of America works in cooperation with Yamaha Music Foundation to design new courses, improve instructional quality, and refine existing programs.
About Yamaha
Yamaha Corporation of America (YCA) is one of the largest subsidiaries of Yamaha Corporation, Japan and offers a full line of award-winning musical instruments, sound reinforcement, commercial installation and home entertainment products to the U.S. market. Products include: Yamaha acoustic, digital and hybrid pianos, portable keyboards, guitars, acoustic and electronic drums, band and orchestral instruments, marching percussion products, synthesizers, professional digital and analog audio equipment, Steinberg recording products and NEXO commercial audio products, as well as AV receivers, amplifiers, MusicCast wireless multiroom audio systems, Blu-ray/CD players, earphones, headphones, home-theater-in-a-box systems, sound bars and its exclusive line of Digital Sound Projectors. YCA markets innovative, finely crafted technology and entertainment products and musical instruments targeted to the hobbyist, education, worship, music, professional audio installation and consumer markets.