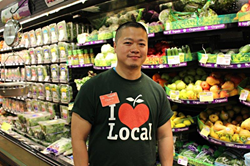 Keasby, NJ (PRWEB) June 25, 2017
Continuing its long-held tradition of carrying locally grown products, ShopRite is proud to announce the expansion of its Locally Grown program, offering a rich variety of products throughout the supermarket – from farm-raised beef to seafood, flowers, fresh fruits and vegetables, baked goods, honey, craft beer and roasted coffees.
"ShopRite has been partnering with local farmers since our inception almost 70 years ago," said Derrick Jenkins, vice president of the Produce and Floral Division at ShopRite. "But more than ever, we are meeting increased customer demand for locally sourced products by working hand-in-hand with local entrepreneurs, family farms and businesses to procure and sell products that have been locally grown."
ShopRite also recently introduced Farm Promise, an extensive line of beef and pork products that comes from family-owned farms in New Jersey, Pennsylvania, Maryland, Delaware and upstate New York. ShopRite's Farm Promise meat is free of antibiotics and growth hormones and the label is the latest addition to ShopRite's large and growing selection of locally grown and sourced products in-store.
"ShopRite is proud to partner with family farms like Triple C Farm in Woodstown, NJ, to bring our new line of Farm Promise products to our stores," said Roger Savoia, vice president of the Meat Division for ShopRite. "Many of our ShopRite stores are family-owned and operated, and our member owners know their communities and their neighbors. Partnering with local business, farmers and families to get the best products for our customers is important to us."
Stores also receive fresh, daily deliveries of sea scallops, fluke, crabs, clams, oysters, bluefish, and whiting caught in local waters in New Jersey, New York, Rhode Island and Delaware, and ShopRite recently joined state officials in announcing the debut of the "Grown in Monmouth" label. ShopRite stores inNew Jersey's Monmouth and Ocean counties will feature flowers and plants branded with the new label and sourced from local farms.
Many seasonal and unique products can also be found on a store-by-store basis. These "hyper-local" products are produced by local independent businesses and growers, with popular items such as locally roasted coffees, locally made pastries and breads, honey, small-batch sauces, and greens that have been grown on local hydroponic or indoor "vertical" farms.
"ShopRite is proud to work with local family farms and businesses beacause local is not only how we source our food, it's who we are," added Jenkins. "We look forward to offering shoppers an ever-increasing assortment of locally made products and goods throughout the year."
To learn more about our local partnerships visit http://www.shoprite.com/locallygrown.