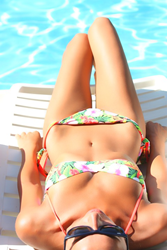 Laser hair reduction offers a safe and very effective medical procedure to permanently terminate hair growth from unwanted areas.
Santa Rosa, CA (PRWEB) June 25, 2017
With a heatwave currently bearing down on Northern California pushing temperatures to the maximum, many people are heading to the beach or hanging out at the pool. Being swimsuit ready is easy with laser hair removal.
The process of summer waxing and constantly shaving unwanted hair, then repeat – and repeat again can be a burdensome routine when all you want to do is get out, dive in and cool off. There is a way to be swimsuit ready all summer long with laser hair removal. "Traditional methods for removing hair like shaving, tweezing and waxing can be very cumbersome and time consuming for women," explains Dr. Lela Emad of Women's OB/GYN Medical Group in Santa Rosa. "Laser hair reduction offers a safe and very effective medical procedure to permanently terminate hair growth from unwanted areas."
What is Laser Hair Reduction?
Laser hair removal is actually a medical procedure that employs an intense, pulsating beam of light to remove unwanted hair. A focused laser beam passes through the skin to penetrate and essentially vaporize individual hair follicles. The intense heat of the laser damages the hair follicle without harming surrounding skin and tissue. This process acts to inhibit future hair growth and although it may not completely guarantee permanent hair removal, over the course of a few treatments, it can provide an extended hair-free period. Periodic follow-up maintenance treatments are recommended as well.
The procedure is extremely precise and takes only a few minutes to remove hair from small areas, such as the upper lip or chin, and about an hour to treat larger areas, such as the back or legs. Laser hair reduction may require up to five sessions for optimal outcomes, and when performed properly, the procedure successfully terminates hair growth from treated areas in the vast majority of (up to 90%) of women.
Does it work for everyone?
Although anyone can undergo laser hair removal, best results depend on a person's hair color and skin type. For example, people who have light skin and dark hair have the best results overall due to how the laser beam targets the pigment (melanin) in the hair. Advances in technology over recent years have made laser hair removal an option even for people who have darker skin.
"Laser hair removal may not have exactly the same effect for hair colors such as white, gray, blond or even red because it's more difficult for the laser to target that range of color," said Dr. Emad. "Although people with lighter color hair will see results, it may take more of an effort to get there, then it does for those with darker hair color."
While laser hair reduction is fast and easy for patients, it is still a medical procedure that requires an experienced technician to ensure it is performed safely and effectively. The physicians at Women's OB/GYN Medical Group carry years of experience in performing laser hair reduction and they take care to attend to any discomfort or bad reactions patients may have to the procedure.
Best outcomes for laser hair removal
Laser hair removal leaves skin smooth and soft on the underarms, legs and arms, hands, back, face, bikini area. The results are always immediate and quite lasting. And since hair follicles are essentially transformed by laser light, hair typically will not grow back as quickly as prior to the treatment and occasional touch-ups are recommended to keep the skin smooth and hair-free.
"Patients who have experienced laser technology for hair removal tend to feel better about the look of their skin, and many report experiencing an improvement in body image that gives a boost of confidence," says Dr. Email. "Above all else, patients appreciate the convenience it provides to the grooming routine."
About Women's OB/GYN Laser Hair Removal
Women's OB/GYN physicians also offer expert advice and products for general skin care and treatment. Call (707) 579-1102 to schedule an appointment and for more information about laser hair reduction and skin care offered by the group. Visit the website to learn more.