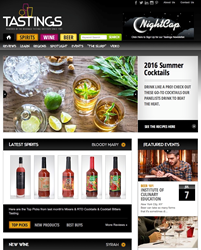 "Their objective global perspective is a welcome addition to the body of wine information, and will be a powerful tool to inform and motivate wine lovers of America." - Bob Betz, Master of Wine, Chateau Ste. Michelle
Chicago, IL (PRWEB) June 27, 2017
The World Value Wine Challenge is the largest event of its kind in the wine industry with hundreds of value-priced brands competing to win gold, or even the very rare platinum medal, from Tastings.com's expert judges. Registration is now open for wines at manufacturer's suggested retail prices of $20 and under. The entry deadline will close on August 15th 2017. ENTER HERE.
All registered wines will:
1) Be blind tasted by panels of professional wine buyers and experts
2) Receive a detailed tasting note and a 100-point based score
3) Be published for 3 years on Tastings.com - a website that receives more than 150,000 unique visitors per month
Winning wines will:
1) Be featured on our social media channels - impressions total 50,000+ per month
2) Receive a free medal logo for brand marketing and promotion
3) Gain exposure to open-premise, retail, import & distributor buyers
Also included this year are "Top Ten" lists and "Best Of" category rankings. "Best Of" awards will be given to highly-represented regions, varietals, and exceptional values.
There are four price-based categories for 750ml bottles to enter: $20 & under, $15 & under, $10 & under, and $8 & under; and also four format-based categories: 1.5L bottles (up to $25), 3L casks (up to $30), tetra-pack cartons, half bottles (375mL).
To register download a quick entry form here and email: Jaclyn(at)tastings(dot)com or fax: 773-930-4598
About Tastings.com:
Tastings.com has been reviewing wines since 1981 and is one of the few unsponsored and completely independent professional wine rating and review services. Their expert judges have spent years refining and educating their palates to offer the most objective ratings and quality rankings. Meet just a few of them here. Tastings.com is the most comprehensive, go-to resource site for alcoholic beverage reviews. Tastings.com is powered by the Beverage Testing Institute, a 36-year-old member of the American Society of Testing and Materials, that uses a proprietary evaluation methodology co-developed with Cornell University.