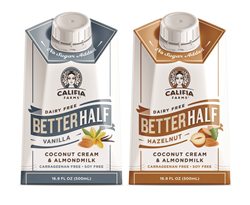 Our mission to clean up America's coffee - and make it taste better than ever for the over two-thirds who whiten their daily cups - is clearly resonating.
Los Angeles, CA and New York, NY (PRWEB) June 25, 2017
Califia Farms, the number one nutmilk and refrigerated RTD cold brew coffee brand in the natural channel, saw sales of its innovative non-dairy, nutmilk creamers double, year-over-year, outpacing category growth.
Building on demand for both non-dairy and low-to-no sugar options, the company's introduction of new creamers, including new unsweetened flavors of Better Half - its non-dairy, creamy alternative to Half and Half - have contributed to the significant sales increases. All products will be sampled at this week's Fancy Food Show in New York.
"Increasingly, consumers are picking up their traditional non-dairy creamers, taking a look at the ingredients - such as high fructose corn syrup and hydrogenated oil – and making a different and, in our opinion, better choice," said Greg Steltenpohl, Califia Farms' CEO. "Our mission to clean up America's coffee - and make it taste better than ever for the over two-thirds who whiten their daily cups - is clearly resonating."
As Califia has expanded its range of of nutmilks, the sales growth rate of the company's creamers has significantly outpaced overall non-dairy creamer category growth in the natural channel: 99% for Califia year-over-year versus 16% for the category overall.
Unlike the leading non-dairy creamer, Califia Farms' nutmilk creamers contain zero hydrogenated oil, zero high fructose corn syrup, zero artificial whiteners and are notable for their great flavor and plant-powered deliciousness. Formulated with coconut cream, which naturally adds creaminess and sweetness, while enhancing whitening, they are free of dairy, soy, GMOs, gluten, and trans-fat. They also boast low-to-no sugar content: four of the creamers contain 0 grams of added sugar, including the newly introduced Unsweetened Better Half Vanilla and Better Half Hazelnut; and even Califia's most indulgent creamers contain no more than 3 grams of sugar.
"The adoption of low-to-no sugar creamers reflects one of today's most important wellness and food trends: the demand for lower sugar across the board in the products we consume," continued Steltenpohl. "High sugar content appears in many of the leading non-dairy brands, but Califia creamers prove that coffee drinks can taste great - and, in fact, better - without several teaspoons of sugar!"
While studies have linked sugary beverages to multiple health issues from greater Alzheimer's risk to Type 2 diabetes and obesity,[2] Americans consumed nearly 11 million metric tons of sugar in 2016, according to the US Department of Agriculture, and much of it in the form of sugar-sweetened beverages like sports drinks and soda. This, in spite of the fact that USDA guidelines recommend that added sugar should equal less than 10% of daily caloric intake.
In addition to its delicious unsweetened options for non-dairy creamers, the company stands out for its low-to-no sugar, creamy non-dairy cold brew RTD coffee drink options, including Black and White and its protein- and MCT-powered Full Shot, both of which contain 0 grams of added sugar -- a stark comparison to the 46 grams of sugar contained in the leading shelf stable creamed coffee brand.
The new Better Half flavors, along with Califia's entire line of nut-based Creamers, Almondmilks and Cold Brew Coffee drinks, including its recently launched Homestyle Organic Nutmilks, Protein Almondmilks with Maca and Pure Black and Black Label Cold Brew Coffees will be sampled at the Summer Specialty Food Show at Booth #5756.
About Califia Farms (pronounced "Cal-ah-FEE-yuh")
Inspired by Queen Califia, the mythical namesake of the state of California, and headed by beverage visionary Greg Steltenpohl, Los Angeles-based Califia Farms was founded in 2010 and is one of the fastest-growing natural beverage companies in the U.S. It has become the number one nutmilk and refrigerated RTD coffee brand in the natural channel by creating innovative, healthy and great-tasting premium beverages that make it easy for consumers to go 'plant-powered' and live dairy-free, without compromise. Califia is on a mission is to discover and share 'what plants can do' to help achieve whole body health and to encourage wider adoption of plant-based foods and beverages for the good of our planet.
Join the conversation with @CalifiaFarms on Facebook, Twitter, Instagram and Snapchat.
Califia Farms Media Relations
mWEBB Communications
Melanie Webber, (424) 603-4340, melanie(at)mwebbcom(dot)com
1. SPINScan Natural Channel 52Wks end 5.21.17
SPINS/IRI MULO Conventional Channel 52Wks End 5.21.17
2. https://www.nytimes.com/2017/04/24/well/eat/sugary-drinks-brain-aging.html?_r=0
https://www.hsph.harvard.edu/nutritionsource/sugary-drinks-fact-sheet/
https://www.hsph.harvard.edu/nutritionsource/healthy-drinks/soft-drinks-and-disease/