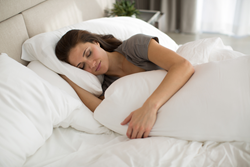 Cariloha's bamboo pillows feature innovative technology that makes each pillow comfier, cooler and cleaner.
Salt Lake City, UT (PRWEB) June 26, 2017
Cariloha, a full-service home comfort, clothing and bath goods company that's the only multi-store retailer in the world to provide an entire experience that's completely merchandised with products made from ecofriendly viscose from bamboo, this week unveiled four pillow options within their bamboo pillow selection – available exclusively in Cariloha stores and online.
As a company that prides itself on providing an expansive selection of clothing, bedding and bath sets, made from proprietary Cariloha bamboo fabric blends, these four pillows put the finishing touch on their Bamboo Bedding Suite (mattress, sheets, and pillows) for all present and future clients.
The new pillow collection includes the following four pillows, each with its own unique characteristics: Cariloha Retreat Pillow, Cariloha Gel Pillow, Cariloha Micro-Gel Pillow, and Cariloha Air Pillow.
The Retreat Pillow features three plush layers for greater comfort, and the Gel Pillow features a cooling gel-top layer for additional temperature control, while the Micro-Gel and Air Pillows contain luxuriously soft micro-gel filling or breathability perforation to optimize airflow, sleep rest and comfort.
Cariloha bamboo fabrics offer unique benefits. They're 3 degrees cooler than cotton and wick moisture away from the skin. They also repel odors and allergens naturally without any harmful chemicals or pesticides. Above all, bamboo fabrics are noticeably softer compared to other luxury fabrics like cashmere and silk but at a fraction of the price.
"When you think of bamboo, large green shoots in the jungle likely come to mind," said Jeff Pedersen, Cariloha Founder and CEO. "Not many know that bamboo can actually be made into irresistibly soft fabrics for making bedding and bath goods at little‐to‐no risk to the environment – it's a comfier way to save the world."
Cariloha's bamboo pillows feature innovative technology that makes each pillow even more comfortable. The new collection was specifically designed to deliver the best in natural luxury because each one of them is made with their proprietary blend of bamboo fibers.
The charcoal memory foam pillows are naturally breathable, hypoallergenic, and luxuriously soft, drawing from a renewable resource that won't harm the planet like other non-renewable materials. Each pillow features medium firmness that retains its shape and alleviates pressure from the user's main pressure points.
"Anyone who puts our bamboo pillows to the test is guaranteed to sleep comfier, cooler and cleaner," said Scott Brady, Cariloha VP of Communications. "We take quality, convenience, and comfort very seriously here at Cariloha. That's why we're constantly working to design and develop new, bamboo-based products that will let our customers enjoy the best in natural luxury."
The planet's ever-growing rich supply of bamboo makes it possible for Cariloha to offer an exclusive collection of apparel, accessories, bed and bath products, and more while enjoying the natural softness and sustainability of the bamboo.
Established in 2007, Cariloha is celebrating 10-years in business this year.
For more information, or to shop the new pillows today, visit here.