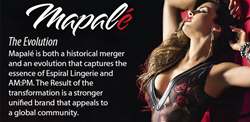 Like our many customers all over the world, we truly love fashion and lingerie
Creedmoor, N.C. (PRWEB) June 25, 2017
With the global fashion market now worth an estimated $3 trillion annually, spending on lingerie accounts for well over $80 billion of that total each year, according to research compiled by Statista. Since its 1998 founding, 3WISHES.COM has become one of the world's top online lingerie retailers, growing from a kitchen-table business into a truly global, North Carolina based presence along the way.
With so many lingerie buyers and wearers appreciating the excitement that Latin inspired designs and styles can deliver, 3WISHES.COM is now putting the spotlight on Mapalé. Ever since its 1999 launch, the Miami-based company has captivated lingerie lovers with its unique talent for spicing up South Beach-style fashion with influences from South America. Mapalé Products emerging from production lines in Colombia regularly rank among the best-selling 3WISHES Lingerie of all. With a huge selection of fashion, resort wear, and lingerie wear available, 3WISHES.COM shoppers can even, for a limited time, score a free pair of boy shorts with each Mapalé purchase.
"Like our many customers all over the world, we truly love fashion and lingerie," said 3WISHES.COM Vice President Steven Spatola. "It's always a pleasure to stock and sell great new products from a brand as passionate about fashion as we are, and Mapalé is very much one of our favorites. Mapalé burst onto the scene in 1999, a year after we opened our own doors, and has been thriving and growing ever since. We're happy to report that we have dozens of Mapalé's most popular items now in stock, with many on sale, as well. We've also just published a new Mapalé brand spotlight at our website, and we invite everyone to stop by to have a look."
A Research and Markets report from December of last year found that North America and Europe combine to provide around two-thirds of the world's total annual demand for lingerie. With an estimated 1.6 billion bras and around 5.5 billion pairs of briefs being sold annually in each average recent year, the group predicted that the lingerie market would continue to grow steadily through 2022 and beyond.
3WISHES.COM is one of the top sources for lingerie, costumes, club and resort wear, and other fashion for buyers around the world. With a deep commitment to supplying a wide range of top-quality products at affordable prices with discreet delivery, 3WISHES.COM consistently offers the best customer service in the industry.
Part of living up to that mission includes working with the industry's leading designers and manufacturers. As a new brand spotlight at 3WISHES.COM makes clear, famed lingerie specialist Mapalé fits the bill perfectly. Visitors to 3WISHES.COM can now read the recently published brand spotlight and browse the company's full selection of products from Mapalé and dozens of other top designers.
About 3WISHES.COM, Inc.:
Since 1998, 3WISHES.COM has offered the best in lingerie and fashion worldwide with friendly customer service, low prices, and fast, discreet delivery.