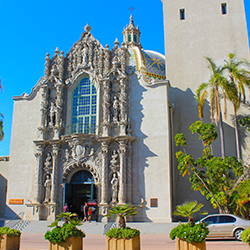 Balboa Park, San Diego announces it is now home to ten (10) U.S. Green Building Council LEED Buildings...
New York, NY (PRWEB) June 23, 2017
Balboa Park, San Diego announces it is now home to ten (10) U.S. Green Building Council LEED® Buildings, as part of the Balboa Park Cultural Partnership's (BPCP) vision to become an exemplar of sustainable practices. To explore Balboa Park's LEED buildings, click here.
Parks around the globe have been exploring sustainability through climate change adaptation strategies, energy and water efficiencies, waste reduction and community resilience. Several years ago, San Diego Gas & Electric, the City of San Diego and BPCP recognized a need for its cultural crown jewel, and one of the nation's oldest urban parks, to stay current with the environmental initiatives that have become standard in today's world. Less than 10 years later, the collaboration of these and other partners reached noteworthy achievements:

Ten (10) buildings, dating back as far as 1911, are now LEED certified and showcase diversity of buildings with smaller environmental footprints.
Energy retrofits saves over 9 million kWh, the equivalent of reducing greenhouse gas emissions from 1,450 passenger vehicles for one year.
Water retrofits of existing buildings' indoor plumbing fixtures save 3.2 million gallons of water annually, the equivalent of nearly 5 Olympic swimming pools.
Sustainability education has reached over 9,000 visitors and staff through behind the scenes tours, a pop-up sustainability exhibit, workshops and trainings.
This is a significant milestone given Balboa Park's aging infrastructure, limited maintenance funding, quantity and diversity of stakeholders and varied community uses—all challenges parks around the nation face. The relationship between historical significance and sustainability is apparent in the United States, where the overwhelming majority of the building stock is made up of existing buildings. These buildings demand similar retrofits if the nation is going to reduce greenhouse gas emissions and negative environmental impacts.
Next, this group is looking to undertake building automation, composting and increased renewable energy generation.
ABOUT BALBOA PARK CULTURAL PARTNERSHIP
Balboa Park Cultural Partnership is a nonprofit organization through which 30 arts, science and cultural institutions in Balboa Park collaborate to achieve shared goals. By helping these groups achieve greater organizational efficiency, innovation and excellence, it seeks to contribute to the vitality and sustainability of Balboa Park. For more information visit http://www.bpcp.org.
ABOUT BALBOA PARK
Balboa Park has a rich history of beautification and education that dates back to 1868 when the land was set aside, just 11 years after Central Park. Since then, 17 museums, gardens, performing arts groups, cultural groups, artists, 85+ non-profits and a Worlds Faire that have called Balboa Park home. Each year, approximately 10 million visitors enjoy the assets of this 1,200 acre park, about 1.5 times the size of Central Park.
ABOUT LEED
LEED®, Leadership in Energy and Environmental Design®, is a leading green building certification system that recognizes best practices and innovation in energy efficiency, water usage, and other natural resources.