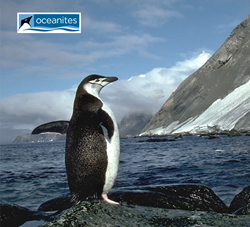 Penguins are on the leading edge of climate change. We must learn what we can from them.
Washington, DC (PRWEB) June 24, 2017
Besides standing and walking upright, what do penguins and humans have in common? We're both going to have to adapt to climate change in order to survive.
The difference is, the penguins in Antarctica are already being put to the test. This from Oceanites' founder, Ron Naveen, the subject of a feature on NBC's Sunday Night with Megyn Kelly, June 25th at 7:00 p.m. EDT. Harry Smith, together with a film crew, spent eleven days on an Antarctic Peninsula trip with Naveen and Heather Lynch, Director of the Lynch Lab for Quantitative Ecology at Stony Brook University.
For 23 years, Naveen has been counting penguins in Antarctica. On April 25th, Oceanites released the first ever State Of Antarctic Penguins (SOAP) report. The report details how the Antarctic Peninsula is the second fastest warming area on the planet, and how some penguins are adapting. Or not. One species, gentoo, has rapidly increased, but two others, chinstrap and Adélie, have significantly declined. The question remains, in their struggle to survive climate change, what can penguins teach us that will contribute to human survival?
Naveen is also the subject of a documentary feature film, The Penguin Counters, which is being released on iTunes next week, with DVDs available on Amazon next month.
About Oceanites
Oceanites is the only non-governmental organization operating an Antarctic scientific research program studying penguins and other seabirds and analyzing the impacts of climate change. Oceanites' founder Ron Naveen is a "reformed" lawyer turned researcher and frequent author who has been to the Antarctic for 32 of the last 35 years, working with key international governmental, scientific and private sector organizations. For more information, visit https://oceanites.org/.
Embeddable video can be found here:
http://www.nbcnews.com/megyn-kelly/video/preview-a-march-with-the-penguins-973929539782
http://www.nbcnews.com/megyn-kelly/video/preview-what-can-penguins-tell-us-about-climate-change-973893699515