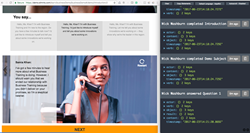 The plugin can be found in the Google Chrome Store by following the link below or searching for "xAPI Inspector"
Orlando, FL (PRWEB) June 27, 2017
On June 23, 2017 a new plugin extension was added to the Google Chrome Store: The xAPI Inspector. The free plugin allows developers and xAPI practitioners a way to validate xAPI statements from their own programs, or external programs that claim to use xAPI.
The xAPI Inspector hones a simple interface that allows one to view and copy xAPI activity streams and statements through a simple pop up in a web browser as they are sent to a Learning Record Store (LRS). The plugin displays the full statement as well as a simplified header which highlights the actor, verb, and object for an easy-to-read version of the statement.
The plugin can be found in the Google Chrome Store by following the link below or searching for "xAPI Inspector":
Google Chrome Store - xAPI Inspector
MediaContact:
Technology Resources and Riptide's CEO are available for interview.
Please contact Christy Puller, 407-542-7675.
About RiptideSoftware.com
The Riptide Learning Division brings the Riptide Elements® product line of learning solutions to the modern enterprise: Storepoints xAPI-Conformant LRS, Waypoints In-line Training Software, and Learnpoints Adaptive Learning Courseware. Elements is a scalable, and configurable platform of learning solutions that works seamlessly with existing enterprise software systems in a non-disruptive way. All products are also backwards compatible to Legacy systems. Riptide Learning team members are active participants in the community developing xAPI—the standard in modern learner experience tracking.