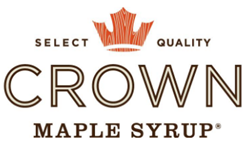 Dover Plains, NY (PRWEB) June 25, 2017
Crown Maple, upstate New York's premier maple brand, will showcase its line of maple syrups at the 2017 Summer Fancy Food Show, June 25-27, at New York City's Javits Center. The brand will offer samples of Crown Maple's latest products at booth #6062, including the recently-launched infused syrup collection and a Maple Cayenne Hot Sauce created with Horseshoe Brand, alongside signature brand products like the Bourbon Barrel Aged maple syrup and holiday gifting-ready syrup trios.
Crown Maple's mission is to create delicious, artisan, certified organic maple products that are enjoyed far beyond the breakfast table. Celebrating maple as a healthier, more flavorful all-natural sweetener, Crown Maple focuses on producing high quality, flavorful offerings that are perfect for use in cocktails, sauces, marinades, and baked goods, in addition to elevating traditional pancakes and waffles.
The following Crown Maple products will be highlighted at the Summer Fancy Food Show:
Madagascar Vanilla Infused Syrup: (250ml, $16.95)
The tantalizing floral aromas of Madagascar Vanilla Infused complements the graham cracker and brown butter notes of our Dark Color syrup to present a delicate and creamy body with buttery sweet notes that builds intrigue. Add a splash in coffee, tea, oatmeal, and baked goods to give everyday food a surprisingly sweet hint of vanilla.
Cinnamon Infused Syrup: (250ml, $16.95)
The sweet and spicy floral notes of cinnamon accentuate the brown butter and toasted pecan notes of our Dark Color syrup to create warm and intriguing flavors. Cinnamon Infused maple syrup is presented in a medium-body that elevates your favorite foods, such as yogurt, coffee, cheese and ice cream.
Applewood Smoked Syrup: (250ml, $16.95)
The flavors of toffee, brown butter, and toasted pecan notes come to life in Applewood Smoked as the Dark Color syrup is slowly smoked at low temperatures with 100% natural Applewood creating a medium-body that presents enticing aromas of sweet smoke and warm spice. This captivating infused syrup is suggested for grilling, marinades, sauces, glazes, and mixology.
Bourbon Barrel Aged Syrup: (250ml, $16.95)
Distinctive aromas and flavors of bourbon, smoky oak, graham cracker, brown butter & creamy vanilla are showcased in Bourbon Barrel Aged maple syrup which presents exceptional layers of luxurious flavors.
Petite Trio: ($15.95)
Sample three varieties of Crown Maple in one package and discover the unique taste profiles of our distinctive syrups for yourself. The aromas and flavors of gingerbread, roasted chestnut, toffee, and a hint of clove and nutmeg, are showcased in Amber Color and Rich Taste pure maple syrup, which presents a medium-body feel with a depth of luxurious flavors. With flavors and aromas of graham cracker, toffee, brown butter, and toasted pecans with a hint of warm spice, Dark Color and Robust Taste pure maple syrup has concentrated depth of flavor presented in a creamy, medium-body with robust flavors. Deeply caramelized flavors and aromas of molasses, crème brûleè, espresso, and cocoa beans with hints of clove, allspice, and anise, make Very Dark Color and Strong Taste pure maple syrup the most full-bodied syrup in the line.
Maple Cayenne Hot Sauce: ($7.95)
Crown Maple partnered with Horseshoe Brand to create this small-batch hot sauce. The tantalizing sweet flavor of maple syrup is blended with hot red cayenne pepper and rich, smoky chipotle to create an entrancing hot sauce. A crowning touch for all your foods - chicken and waffles, pork, seafood, vegetables, or even a simple cracker.
Get a taste of Crown Maple's products at the Summer Fancy Food Show at booth #6062 and learn more about the brand at http://www.crownmaple.com. New Yorkers can also easily escape to the beautiful Crown Maple Estate, less than a two-hour drive from the city, to enjoy the unique and inspiring experience of the property's incredible landscape, educational tours, fun community events, and delicious maple dishes at the Crown Maple Cafè.
About Crown Maple
Crown Maple is Quite Possibly the Purest Maple Syrup on Earth® and sets a new standard of excellence for maple. Founded by Robb & Lydia Turner in 2010, Crown Maple has been carefully crafted from the ground up to become the preeminent maple syrup brand. By pairing the best nature has to offer with artisan craftsmanship and breakthrough proprietary production technology, Crown Maple creates an extraordinary maple experience. Crown Maple products are estate-produced, certified-organic and provide a superior and distinctive taste and performance that elevates Crown Maple beyond a sweetener and into a defining ingredient.
The Crown Maple Estate is based in New York's Hudson Valley at Madava Farms, the Turner family's farm, and has quickly become New York's largest maple syrup producer. With availability from coast-to-coast, Crown Maple is the syrup of choice served at top restaurants, resorts, and culinary institutions and is available for purchase at national grocery stores, natural retailers, specialty stores, and foodservice distributors. Crown Maple products can also be purchased online at http://www.crownmaple.com.