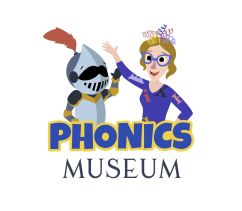 LANCASTER, Pa. (PRWEB) June 27, 2017
Veritas, a leader in classical Christian education materials and online classes for homeschool families, released the Phonics Museum app, currently exclusively in the iOS app store for iPhone and iPad.
The Phonics Museum app is the most innovative and comprehensive reading app available in the iOS store. Based upon the company's award-wining Phonics Museum curriculum, the app provides each child with a multi-sensory approach to reading with over 900 engaging games, activities, interactions, exercises and memory songs.
Unique from other educational apps on the market, the Phonics Museum app merges a classical, time-proven approach to learning with state-of-the-art technology and is focused on getting children to read and write as fast as possible. The app is designed for children ages 3 to 7 and makes learning to read natural and fun through the incorporation of entertaining and sound content.
"This app is built to instill in each child a lifetime love for reading," said Laurie Detweiler, executive vice president and co-founder of Veritas. "While there are a number of educational apps available for parents to choose for their children, the Phonics Museum app takes a 'tools of learning' approach to build a strong foundation for reading through a complete commitment to a phonetic approach."
Children learning to read on the Phonics Museum app will be transported into the story following the adventure of Percival, a boy knight, and the fun-loving museum curator Miss Biddle as they explore the art in the Phonics Museum, learning letters, sounds, and how to read along the way. The interactive theming and charming characters, as well as exciting games, interactions and songs, provide a truly multi-sensory approach for all three types of learners; kinesthetic, auditory and visual.
Veritas saw the opportunity to utilize new technology and pair it with its proven physical curriculum to help children learn to read faster and at a younger age.
The app utilizes a classical education method that coincides with children's natural development, making it ideal for teaching preschoolers to second grade. Children who walk through the entire Phonics Museum app will not only be able to read an age-appropriate book by themselves, but they will also develop a love of reading.
"One of the most important investments of time and money a parent can make is setting the stage for children to love reading and be good readers," said Laurie Detweiler. "Studies show that children who lack the fundamental foundation of reading struggle throughout life. Children are naturally inquisitive and need little reason why they should learn something. We know that if you make it fun and interesting, they will devour enormous quantities of data, which is exactly what we seek to do with the Phonics Museum app."
The Phonics Museum app is available now for iOS platforms for a monthly subscription of $9.99 or $99 annually. For additional information and a free 14-day trial, visit PhonicsMuseum.com.
Veritas was founded by Marlin and Laurie Detweiler and has been a leader in classical education for 20 years. A comprehensive K-12 education provider, Veritas offers curriculum, synchronous Live Online classes and interactive self-paced online courses as well as diplomas through an accredited online school, Veritas Scholars Academy. For more information, visit VeritasPress.com.
-30-
NOTE TO EDITORS: For more information about the Phonics Museum app, please visit PhonicsMuseum.com. To arrange an interview with Marlin and Laurie Detweiler, please contact Kristin Nill at 972.267.1111 or knill(at)alarryross(dot)com.
Current endorsements from beta-test users

"Now my 5yr old granddaughter loves it.."
"My child did all the navigating himself."
"The integrated writing. The integrated art. The idea of the app. We looked at your phonics curriculum two year ago - I loved the idea but it was too many pieces for me to teach at home. I thought it would be too hard. This is giving us the experience but without the high deman on the teacher."
"I love that there is so much practice for my five year old! And she loves Miss Bittle! My seven year old sits with us also and he gets a little bored. I wish he was able to review some without having to do everything."