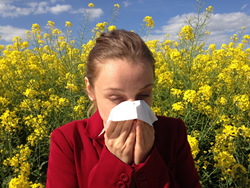 This year the pollen intensity might go on a bit longer thanks to the current uptick in heat we're experiencing...
Santa Rosa, CA (PRWEB) June 25, 2017
An increase in wetter weather in the Northern California area naturally means a lot more green and growing foliage and plants, and along with that; a humdinger of an allergy season. A relief from drought conditions is most welcome, but for pollen sensitive allergy sufferers, it also means an increase in misery-causing grass and weed pollen.
"Our patients have been reporting the typical allergy season symptoms, such as itchy eyes and sneezing," explains Linda Biggers NCMA's SRHN Allergy Clinic Manager & Clinician. "This is not surprising since according to the experts we are already well into grass pollen season. Grass pollen is the most allergy causing pollen; and it's one of the most prolific pollen producers in our area." Grass pollen levels typically become most prevalent though the month of June. "This year the pollen intensity might go on a bit longer thanks to the current uptick in heat we're experiencing," she added.
Although allergies might be a challenge to deal with, it is a normal physiological reaction to airborne allergens. Typical reactions include a runny nose and swollen sinus passages as the body tries to block the allergen from getting into the system. The immune system reacts defensively to the pollen and responds to attack by producing large amounts of antibody. This allergic reaction can cause symptoms including; itchy and watery eyes and throat, runny nose, hives and overall fatigue.
Understanding Pollen Season
Anyone who suffers from seasonal pollen allergies probably knows that it's spread by the wind. Any warm afternoon breeze can be loaded with pollen from trees, grasses, flowering plants and a plethora of weeds. Although springtime may be the launch of allergy season, many plants pollinate year-round. And according to online pollen reporting sites, pollen counts vary from day to day and hour to hour depending on heat and precipitation.
According to researchers, nasal allergies affect about 50 million people in the U.S. and it's a problem that is on the increase. As many as 30 percent of adults and 40 percent of children report allergy symptoms. Allergic disease including asthma, is the now the fifth leading chronic disease in the U.S. in people of all ages. It has been estimated that between 24-40 million of allergy patients suffer specifically from an airborne allergy resulting in hay fever or Seasonal Allergic Rhinitis Rhinitis.
Allergy Independence with Immunotherapy
Over-the-counter remedies and staying indoors might not work for everyone and that's when doctors might recommend immunotherapy. This type of allergy therapy follows a thorough allergy test to screen for which allergens are causing the problem, patients are then set up on a schedule of injections that are geared toward not only relieving allergy symptoms but eliminating them altogether.
"We are able to test for more than 40 different inhalant allergens that are common to the area, such as trees, grass, weeds, molds, dust mites, animals, and others. From the results of these tests we are then able to advise patients on the best options for treating their individual allergy symptoms," said Biggers.
"In order to get a person's immune system to stop over-reacting to allergens, we may offer immunotherapy which uses a gradual desensitization process that involves injecting extracts of identified allergens. Normally these injections are given once a week over the course of several months," she explained. "We then graduate treatments to bi-monthly and eventually to just once a month. The goal is to make you feel better while cutting back or eliminating your allergy medications."
About SRHN Allergy Center
The Allergy Center at Santa Rosa Head and Neck (SRHN) provides patients with a clear solution to the treatment of allergies using a collaborative team of board-certified otolaryngologists and allergy specialists. SRHN physicians are members of the American Academy of Otolaryngic Allergy. For more information on the Allergy Center at Santa Rosa Head & Neck visit the NCMA website or call (707) 523-7025 to schedule an appointment.