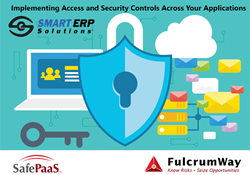 Pleasanton, CA (PRWEB) June 26, 2017
Smart ERP Solutions (SmartERP), a leading provider of enterprise resource planning (ERP) solutions and services, will host a complimentary informational webinar "Implementing Access and Security Controls Across Your Applications." The webinar will be presented by Lewis Hopkins, Board Member of the Governance, Risk and Compliance User Group and FulcrumWay/SafePaas, a leading provider of risk-based enterprise controls management solutions. This interactive one-hour event will take place on Thursday, June 29, 2017 at 10:00 PM (PST). Registration for this complimentary webinar can be accessed here.
During this webinar attendees will learn about the process of establishing access and security policies within PeopleSoft (#peoplesoft) and Oracle E-Business Suite (#oracle). This session will focus on the areas of E-Business Suite and PeopleSoft that should be addressed as users implement continuous controls monitoring (CM). The presenters will explain to attendees how to implement rules and policies that cover Finance, Supply Chain and HR for a complete approach to securing all of your critical applications.
Key Takeaways:

Overview of Access Controls
Segregation of Duties and Access Reporting
Configuration of Your Application
Roles and Password Policies
About the presenter:
Lewis Hopkins has been working in the field of Governance, Risk and Compliance for the last 11 years, providing solutions and guidance to over 200 Organizations. He is a Board Member of the Governance, Risk and Compliance User Group and speaks regularly at Industry events. Hopkins is trained in Data Security, Segregation of Duties, GRC, and Oracle Applications across Financials, HR.
About FulcrumWay
FulcrumWay is a leading provider of risk-based enterprise controls management solutions that help organizations leverage enterprise management applications to gain strategic opportunities through reliable, rapid and easy access to the largest ERP Controls Catalog available in the Cloud. FulcrumWay's ERP Controls expertise, proven methodology, and integrated controls management services enable organizations to leverage information technology investment and turn enterprise risk into improved business performance. FulcrumWay is a privately held corporation, serving clients in North America with a regional presence in California, New York, and Texas, as well as clients in South America, Europe, Middle East, Africa, and Asia with an international presence through a partner network and technology solution center in India.
About Smart ERP Solutions
Smart ERP Solutions®, Inc. is a unique organization in the Enterprise Business Applications space providing innovative, cost-effective, and configurable on premise and cloud solutions and services that efficiently extend the capabilities of ERP systems to meet specific business process needs. Smart ERP Solutions enables clients to seamlessly integrate their people, processes, applications, and data, across an enterprise, enabling the organization to streamline its operations and support business growth.
MEDIA CONTACT
Dave Reik
Smart ERP Solutions, Inc.
+1 925 271 0200 Ext:125