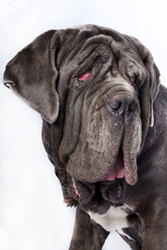 "She's a 125-pound, drooling, snoring, gassy, loud and silly girl. She knocks over every water bucket. She bosses the other dogs around and makes sure all guests are suitably slimed on arrival," says Shirley Zindler
PETALUMA, CA. (PRWEB) June 24, 2017
Martha, a 3-year-old Neopolitan Mastiff, won over the judges and the crowd for her drooling chops, excess skin and wrinkles in the 2017 World's Ugliest Dog® Contest. Chief Judge Brian Sobel said "We were impressed by a 125-pound dog with 300 pounds of skin. And Martha was the overwhelming crowd favorite." Martha, who is being fostered by Shirley Dawn Zindler for the Dogwood Animal Rescue Group, takes home $1,500 and a monumental, 5-foot-tall trophy.
"She's a 125-pound, drooling, snoring, gassy, loud and silly girl. She knocks over every water bucket no matter how securely attached to the fence. She bosses the other dogs around and makes sure all guests are suitably slimed on arrival," says Shirley.
Second place went to Moe, owned by Miriam Tcheng and third place was Chase, owned by Storm Shayler. The Spirit award was won by Precious, owned by Catherine Kennedy.
Fourteen homely hounds competed in the annual World's Ugliest Dog® contest for the title and world fame from as far away as Neath, UK. An Ugly Dog contest has been held in the small California coastal town of Petaluma for over 50 years, most of them at the Sonoma-Marin Fair.
From a Red Carpet Walk and a Fashion Faux Paw Show featuring Ugly Sweaters and rescued dogs, this annual competition has all the trappings of a Hollywood event, including cameras flashing and video rolling by international and network media. Even dog royalty Snoopy was in attendance.
"We celebrate the spirit and imperfections that make these dogs loveable and adoptable," explains Karen Spencer, Marketing Director.
For more information visit Sonoma-MarinFair.org and click on World's Ugliest Dog® Contest.